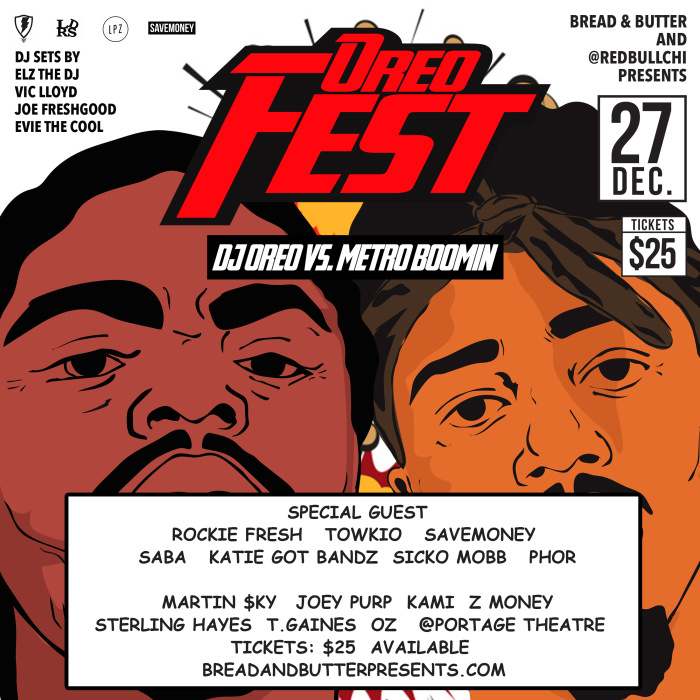 Tomorrow night, Sunday, December 27th, DJ Oreo returns with his third installment of #OreoFest, this time at The Portage Theatre. The lineup is extremely impressive, boasting appearances and performances from Rockie Fresh, Saba, Katie Got Bandz, Sicko Mobb, Phor, Martin $ky, Joey Purp, Kami, ZMoney, Sterling Hayes, T. Gaines and more.
And, oh yeah, Metro Boomin. Yeah, that's right: DJ Oreo vs. Metro Boomin'.
There are still a few tickets left, and they are currently $25 and available right here. Doors open at 6:30 and Oreo has plenty of surprises in store so be sure not to miss.
The Portage Theater
4050 N. Milwaukee
Chicago, IL

Sunday Dec 27, 2015
Doors: 6:30 PM
All Ages
$25
Today, however, we have three pairs of tickets to giveaway to three lucky FSD readers. Find out how to win below. Also, buy tickets here. 
To win, you must have the best answer to the question below, and tag me (you must follow me so I can DM the winner) with the hashtag #FSDGiveaway. @fakeshoredrive must be included in your tweet to win.
Why do you deserve tickets to #OreoFest and who are you excited to see?