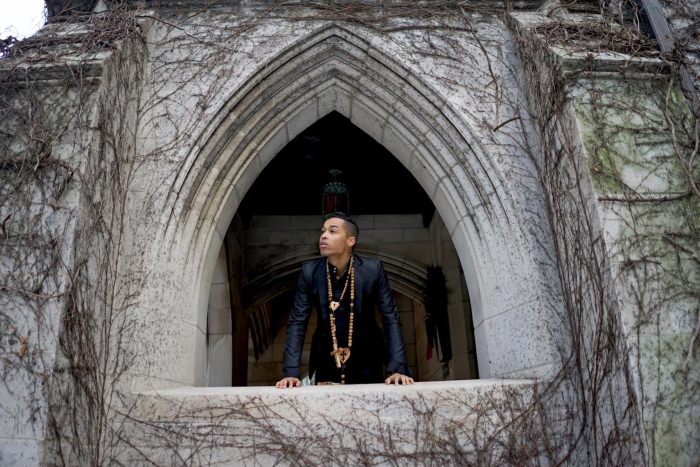 Words by Tiffany Walden (@Waldens_Block)
"'The voice of one crying in the wilderness,
prepare ye the way of the Lord,
make his paths straight'" – Matthew 3:1
Sir The Baptist isn't a man of material things. He's not dipped in gold chains and expensive shoes. There's neither a fancy car nor some super boss pad out in the suburbs. All he has is his voice and his mission: breathing knowledge into this generation one song at a time. A breath desperately needed in a time when the Black body suffocates daily at the hands of police brutality and gun violence. "John the Baptist brought people to the wilderness to escape…" the preacher's kid says slowly, pausing to complete his thought before speaking again, "to escape the politics of that day. That's where Sir The Baptist came from."
He speaks well beyond his 28 years. That's because he feels much older, Centuries older, even. He grew up in his father's church, Bright Star Church, a Christian mecca in the middle of the projects. "The Moes were on one side [and] the GDs were on the other side," Sir remembers. His upcoming album, Preacher's Kid, is a reflection of his Chicago journey. You can hear it in the songs he's released so far. There's his most publicized joint, "Raise Hell," where he cries out about a mother saying she's going lose him.
"That's LaQuan McDonald without saying it," Sir says, sitting on the couch of his Bronzeville spot in sweatpants and a cardigan. "I didn't even write that [song] about that but… that's a constant thing. That's not just this generation. That's generations for a long time. Every since we came to America, your mama been scared she 'gon lose you. Every day of your life."
Then there's his song "Creflo 'Almighty' Dollar" featuring Chicago legend, Twista. "It's just about systematic leaders, period." Sir explains. "I used him [Creflo] as an example because they can understand something so sacred is being misused by governments."
That sacred something is religion. Something Sir is quite familiar with. Born William James Stokes, he grew up with a preacher father and missionary mother. At 11, after his father died, Sir went rogue. "I was like, my dad's dead and I just want to fight the world," he remembers. This led him to questioning Christianity, reading the apologist Ravi Zacarias and taking on a new understanding of the world around him.
"We're still in the wilderness but there's gotta be a voice that can connect the streets to their spirituality and give them something to anchor them into something more," Sir says. Though he's not exactly sure he's that voice just yet, he hopes his music will make listeners dig deeper inside themselves to seek their purpose. "Many people are marching but not many people want to make history 'cause there's a different call to making history. You could be killed at any moment," Sir says, speaking on leaders such as Martin Luther King Jr.