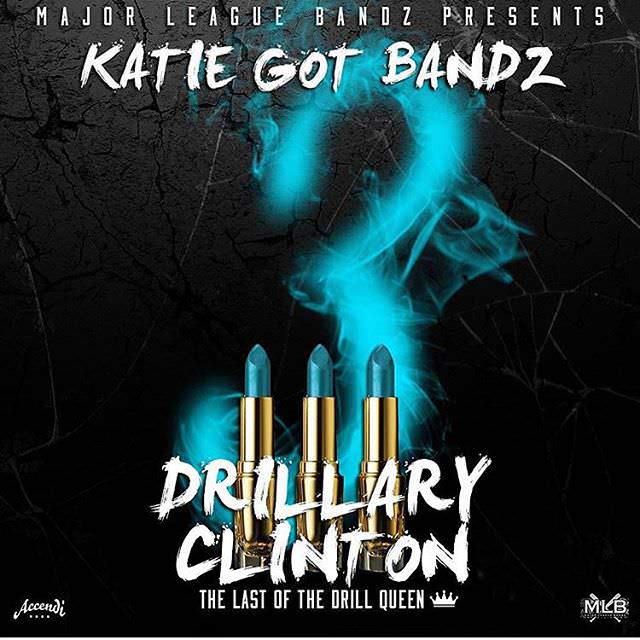 Words by Rohit Loomba (@poombster)
The male influence on drill music is readily apparent, with few female rappers having been able to truly establish themselves in the movement. But don't tell that to Katie Got Bandz, also known as Drillary Clinton. The female pioneer of the trademark grimy Chicago sound has become part of the standard to which female rappers in Chicago will be compared to for some time. She recently dropped her latest mixtape, Drillary Clinton 3, a 17-track effort which the Drill Queen shares may be her last drill tape.
Katie has always had an ear for production and continues her trend for picking good production on DC3. While there is no question that this is a drill tape, the production does incorporate elements from other musical styles, a refreshing approach to the genre. On "Make Me Rich", Soundz provides Katie with a stripped-down drum beat, keeping the attention on Katie and Jeremih. Elsewhere, Mixblazer offers another solid drum-dominated effort with a simple melody laid over, a sound reminiscent of Swizz Beatz efforts. Deeper into the mixtape, Paris Beuller blesses DC3 with the reggae inspired stand-out track "Lick Off Dem Head" and Gwala Vision offers an EDM-inspired "P-E-T-T-Y".
DC3 offers the same energy, delivery, and character Katie has come to personify: she is the Drill Queen and she lets you know on every track. In fact she makes this clearly known on "P-E-T-T-Y": "I say exactly what I want/Who gon' check me?" Not sure who is gon' check her but on tracks like "Jump Off the Porch" she makes it clear that anybody crossing her path will not be taken lightly. Katie features some of her friends on DC3 as well. Chicago crooner Jeremih lends "Make Me Rich" some staccato-sing-songy-rapping while the college-football-player-turned-rapper, Plies, offers a verse on "Juice Got Me Loose". While these features add to DC3 overall, others such as appearances be Eugene and Caleb James are less memorable, even detracting from Katie at times.
DC3 isn't a mixtape that will keep your finger off the skip button straight through but high points such as "Juice Got Me Loose", "Lick Off Dem Head", and "P-E-T-T-Y" help make this mixtape a welcome addition to the drill collection. Whether or not this is truly Katie's final drill release or not has yet to be seen although more from Katie would certainly be welcome. But if this is the end of her run as Drill Queen then one can only hope the Pop Out remix, snippeted at the end of DC3, is an all-star effort featuring a few of Katie's friends and fellow Chicago drill stars.
Keep it drill!
3 (out of 4 stars)