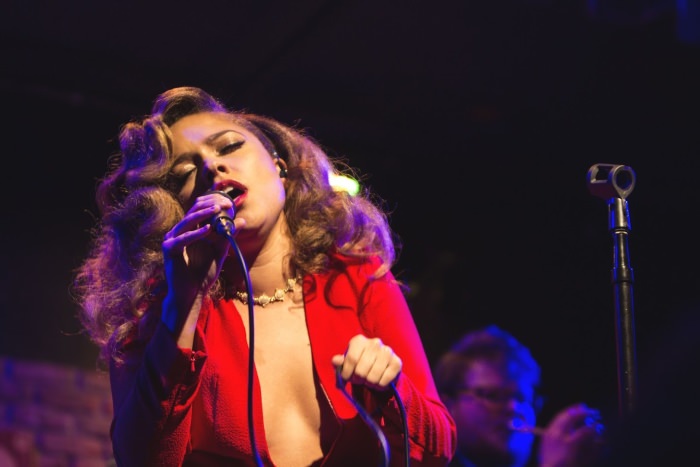 Words and photos by Adrienne Thomas (@nosferatune)
Everyone's talking about Eryn Allen Kane, and woman, does she deserve it. Unlike the nonsense that trend tromps around the internet most of the time, Chicago really is witnessing 'the next big thing' when Kane belts out her huge, gospel-trained voice; soaring with Prince-approved power like Aretha Franklin and raspy soul like Tina Turner. Her element is smoother than the sum of her comparisons, though — her songs are far from just replicas of the greats.
City Winery hosted her first solo show on Friday, February 19th. It sold out quick, and the night was packed with fellow musicians, roaring family and friends, and Chicago journalists quick to support her undeniable talent — born and bred in Detroit but building roots in Chicago for some time now. She donned a long red gown and fabulous hair, declaring with her music and energy that her place was this place, in the spotlight, finally performing Aviary: Act I and II for her favorite people in one room.
Kane's performance was as sexy as her voice sounds when it bends to the curve of her tones, mixing practice with soulful improv and something natural way deep down. Her backup singers took the stage for a short break mid-show, and she returned a few songs later to continue her gratitude, as the support clearly made it an emotional evening for her. Kane concluded the set with "Have Mercy," one of the standout tracks from Act I.
Check out some photos from the show by Nosferatune below.