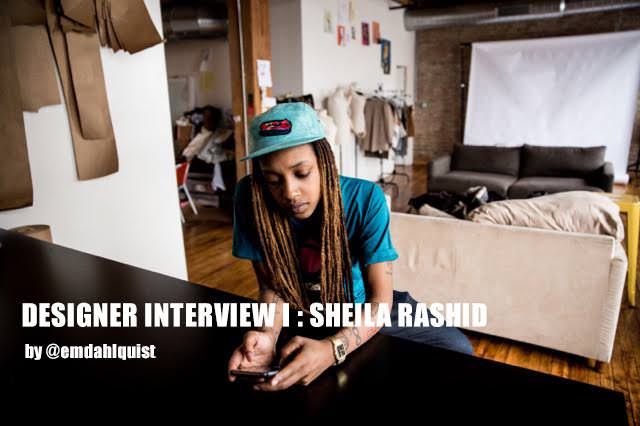 Words by Emily Dahlquist (@emdahlquist)
*Welcome to Designer Interview, a new FSD feature from Emily Dahlquist, which highlights creatives and designers throughout the Midwest. 
On one of Chicago's only snowy days in 2016, I traveled to Sheila Rashid's studio near Douglas Park for an in-person interview and walk-through of her admirable process. A young fashion designer from Chicago – an individual carrying this generation of fresh, classic designers in a city where the current artistic scene is booming. This is a glimpse into my afternoon with Sheila. Keep your eye on this one.
ED: Who you are?
SR: My name is Sheila Amera Rashid, I am 27 years old and I'm from Chicago, Illinois. I am a fashion designer.
ED: What inspired you when you were younger?
SR: I started in high school; I was painting on t-shirts. It was actually something similar to this (looks down at Vita graphic t-shirt), but I was hand-painting each shirt, it would be like characters — like hamburgers. I was inspired by BAPE, Ice Cream & BBC. I was making t-shirts for my peers, then I started doing hoodies and we was like being really creative; cutting out the backs of hoodies, bleaching the sleeves and doing different stuff and girls were really loving that.
That was a really big hit. I branched off from that type of streetwear, because I wanted to do something that would last. I basically wanted to make some stuff from scratch, so I got my own sewing machine. I went to columbia college for a short time and there I learned the basics. I had to teach myself how to make patterns. I taught myself. I would buy patterns & take from different pieces of the pattern, maybe like a neckline or a armhole and then tweak it to make it my own. It's a long process. I definitely wanted to make stuff from scratch and I was motivated from that. I felt like everyone was making t-shirts. I wanted to do something different, make my own brand, make my own product.
ED: …Like a time-piece, more than a trend. Speak about your overalls
SR: I like the drop-crotch, the harem style. I just ran with that. I just was really attracted to that look. So I just made my own, this is going to be my aesthetic. I use it for everything. Like a basic drop crotch pant, using different materials, and then incorporating geometric designs to that. The overalls came by accident. I don't even know how. I just made.. the drop crotch overalls and that was a huge thing and everybody wanted them, so I started making them. That's how I got into denim. I just kept making overalls for people, so I started making different types of designs.
*Watch the video component, then click to page two for part two of the interview