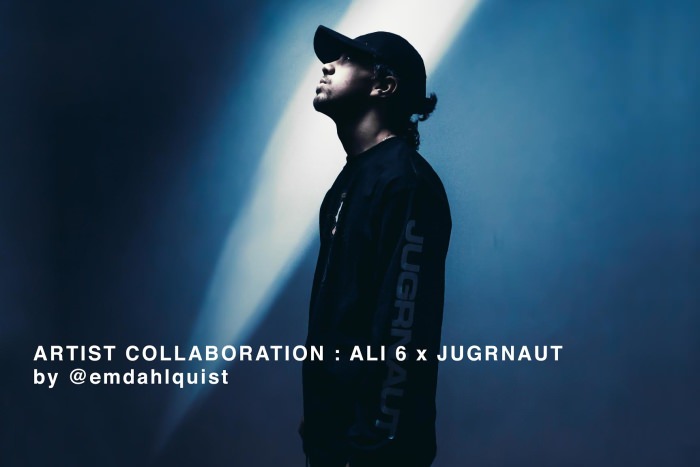 Words by Emily Dahlquist (@emdahlquist) 
Luckily for social media, I was able to catch Nikko Locander aka Ali 6 behind the scenes before his first limited collection release with Jugrnaut, one of Chicago's streetwear hot spots. I got to chill in the place where Richie comes to life with a cat named Jordan, and Locander himself as he gave me some behind the scenes insight on the process of how an artist comes to collaborate with a streetwear fashion brand. The rare collection is available today, 4.8.16.
ED: Who are you?
Ali 6: My name is Nikko Locander, I go by Ali 6, and I'm an artist.
What do you title yourself as?
Ali 6: I'm definitely a street artist I guess, is the title for that. I don't wanna be called a street artist, I'd rather everyone be called an artist. My character work is considered that. I think all art should be taken in as much as possible, I just want there not to be any barrier.
ED: What pieces do you have in this collection with Jugrnaut?
Ali 6: I have two t-shirts the same design is on both. One is short sleeve, one long sleeve with Jugrnaut on the side, & then a hat, which I'm wearing and a pin.
ED: How long have you been working on the project for?
Ali 6: For like a year, I mean I've had the designs done by like February last year. So probably a little over a year actually.
ED: How did you decide what products to make?
Ali 6: I have a full spread that's more than what's releasing…wanted this drop to be pretty limited.
ED: Would you see yourself doing your own clothing line?
Ali 6: The only thing I've ever put on a t-shirt was that (points) screen print, and that's when I wrote Bueller, that's when I did graffiti, so I've never really done clothing, maybe in the future I'd do a capsule, or maybe in a couple years, but I think thats as far as it goes. If it came to making clothing it would really just be like a couple of years for a collection so that it will be very limited, something that's kind of a rare moment in my life.
ED: So you want to keep it pretty limited?
Ali 6: Yeah, cause then once the clothing line stops that's like a phase in my life, that either you own pieces from, or you don't.
ED: I noticed you paint a lot of fashion brands into your work…
Not really gallery work. Street work is definitely, usually all the time, brands or streetwear brands I fuck with. With murals its hit or miss, depends on how I feel.
ED: What made you start doing that?
Ali 6: When I first started, the whole concept was that I need to represent myself as well as optimistic vibes towards the community, so I chose a raccoon, because raccoons can stand. So then I could put fashion on him. That's what I was into at the time, graffiti, streetwear, sneakers, skateboarding, so to represent that with my own character, was go.
ED: Tell me about the character, Richie…
Ali 6: I did graffiti for 6 years, got arrested 6 times. 5th & 6th times they threw out the case cause they messed up on the paperwork, so I took that as a sign of luck that I should just get out of it. Since I've been drawing since I was 5 I took that cartoon method & applied it to wheat pasting. I had KAWS as my inspiration, you know to set my accomplishments at his level because he's accomplished so much & met so many great people. But the whole concept of KAWS & you know having the choppers be like a staple for him as well as the X's on the eyes & the bones on the side. It was more like, okay I need to find attributes that contribute & people can know this is my work if I put it on something else, you know?
So with the raccoon they have the mask, striped tail, they have like a little line where the ears are & shit so I took that & I ran with it. Like I said, since I do graffiti, the icing on the cake if you do graffiti is putting a character, you get like extra brownie points cause not everyone knows how to do them. So I was drawing one night when I was doing graffiti I was sketching & I did a raccoon character & I put it on Instagram. & actually now that Instagram shows you the date, I went back to it & it says that I first created Richie on October 10th, 2012, so now I know his birthday. So yeah, I did that posted it on Instagram & people were fucking with it like – ohh I like that shit, but I didn't think anything of it, I went back to it once, I had this idea that I need to do more with my art & I wanted to do the character work so I went back to that character & was like okay I'm gonna make this my staple. & thats how it came to what it is.
ED: Where do you see yourself progressing with collaborations?
Ali 6: Definitely with local people, once I have these local (collaborations), I can show companies that I understand the business, because right now I'm just getting into it, I've never done clothing before, this is a learning process for me. With my products its just a little different, combining two markets to make a product because you have to both agree on exactly what you want. It's not necessarily a big deal & it's not hard but its still two different opinions, or multiple opinions, if the other side has more people on it.
Jugrnaut : Instagram – Website – Twitter
Emdahlquist : Instagram – Website – Twitter
Fake Shore Drive : Instagram – Website – Twitter