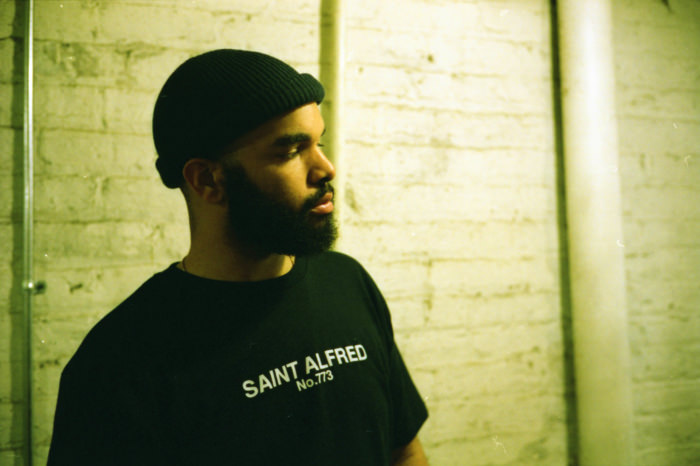 Words by Andrew Jennings. Photos by Sam Schmieg.
This is the second edition of my recurring feature on Fake Shore Drive, and this time I interviewed producer Thelonious Martin. We discuss the people in his life who've influenced him music-wise and beyond. Dude's produced stuff for Action Bronson, Curren$y, Joey Bada$$, Mac Miller, Vic Mensa, Retch, Da$h, and a host of other super dope artists. He spoke about a bunch of different people and groups, from Roy Ayers, to J Dilla, to Topaz Jones, to his Mom (who low key is like 7x cooler than I am).
FSD: So the first question for you is, what are your five favorite albums? And how did those albums influence your music?
Thelonious Martin: Damn, that's a tough one. The first album I physically bought myself was Speakerboxxx/Love Below. My mom is a huge Outkast fan, and influenced me in that manner — in terms of she put me on to music. I could list a ton of other albums, like Tha Alkaholiks 21 & Over, stuff like Wu-Tang. But Outkast, I think that was definitely the first album I bought for myself; on my birthday. It's one of the most amazing hip-hop albums, and one of the highest selling hip-hop albums, and it really changed my life in terms of showing me different types of music. Because Big Boi, his range and dynamic isn't that wide, even though there's definitely different sides and shit. But Andre's part is like, literally every kind of rap. Soul, jazz, blues, that shit really opened my eyes to what music should be, and let me know it's unlimited.
Second album is N.E.R.D.'s Fly Or Die. No, In Search Of. Yeah, N.E.R.D.'s In Search Of is the second album I can list. Another gem my mom put me on to. She was like, "Hey! I think you'd like this band. 'Cuz we met them." 'Cause at the time, "Knock Yourself Out" (by Jadakiss), the N.O.R.E. "Super Thug" joint, that had my moms' attention (The Neptunes produced both of those tracks). Like the previous album I listed, [In Search Of] just showed me that there are things outside of rap.
Coming in third, and this is super obvious, but J.Dilla's Donuts. Without that album, I'm not the producer I am now, flat-out.
Number four, this is tough. I think, in terms of — I didn't cop it when it came out — but I went back and listened to it like crazy, Fantastic, Volume 2 by Slum Village. I don't know, it's kinda like the guidebook to me in terms of chemistry between producers and rappers. Like Dilla's my favorite producer, but going back and listening to that and how intertwined everyone was, that's kinda like my outline for if you're gonna work with people. As a producer it needs to sound this good. Dilla, T3 — they were all on the same page, and it's just like, that's the standard I hold myself to in terms of being a producer.
Fifth album, College Dropout. When College Dropout came out, I don't think I listened to anything else. Obviously, Kanye's a hometown guy, and that album kinda let me know I could be hip-hop, and still wear the Polo. My parents were both 'Lo heads, so I'm familiar with 'Lo heads. 'Lo heads come from the early 90s, when cats used to be like 30 deep boosting Polo out the store. But my parents were both super into that, and between that and looking at Kanye wearing stuff my parents were putting me onto, it was just like the culmination of all these cultural things into this artists. And it was the sound of my home city.
Bonus number six, which I'm also tweaking on is Blueprint. I was with Blueprint the day after it came out, 'cuz I was in Jersey at the time, and it came out after 9/11. I remember being in the classroom, scared out my mind, and I remember coming home the next day and my mom had Blueprint. That really did help going through that time period. It's an incredible rap album, the production on it. I revisited that album when I started making my own shit. That album is like the blueprint, no pun intended, for producer chemistry with a single artist.
FSD: Are there any other albums you wanna mention that didn't make that top six but still had a lot of influence on you?
Thelonious Martin: [Biggie's] Ready to Die. Probably Roy Ayers Coffy? — the soundtrack to the blaxploitation film. That's one of the first albums I found while digging for films and shit. Honestly, that's the first album I found digging just like, "What is this?" It just opened my ears up a lot. If I wanna get into super-deep cuts, I can get into stuff like that, but Roy Ayers, I think that's the perfect segue into whatever the next category of questions is.
FSD: What producers would you say influenced you, and how does that influence make itself apparent in your music?
Thelonious Martin: J Dilla, first and foremost, before anyone else. He's the reason I started making beats. Just sound-wise, the not quantized, the sample flips. Then 9th Wonder, in terms of good consistency. Like, you'll know a 9th Wonder beat when a 9th Wonder beat comes on. And in terms of that, just making sure I have little tricks up my sleeve to let people know, "Oh, this is a Thelonious beat." Just Blaze, for his drum programming and drum fills and combining that with the way Dilla drums.
Also, Questlove — just looking at him jealous like, "How am I supposed to be a drummer when you over there drumming better than me off an MPC?" Alchemist, No I.D. — that was more than five, but those are the main producers who truly had influence over me.
FSD: Are there any artists you've worked with that've influenced you a lot?
Thelonious Martin: Good question. I would say that working with Topaz Jones. He was the first artist I ever worked with, and he actually heard the very first beat I ever made. I was in a position where I wasn't just making beats off in a corner by myself and presenting them to people, but it was more that I was working with someone from the very beginning. It allowed me to shape my sound and experiment with an artist and actually put in the practice time with an artist if necessary. I can easily say Topaz is my best friend and a major influence because he allowed me to experiment with producing, early.