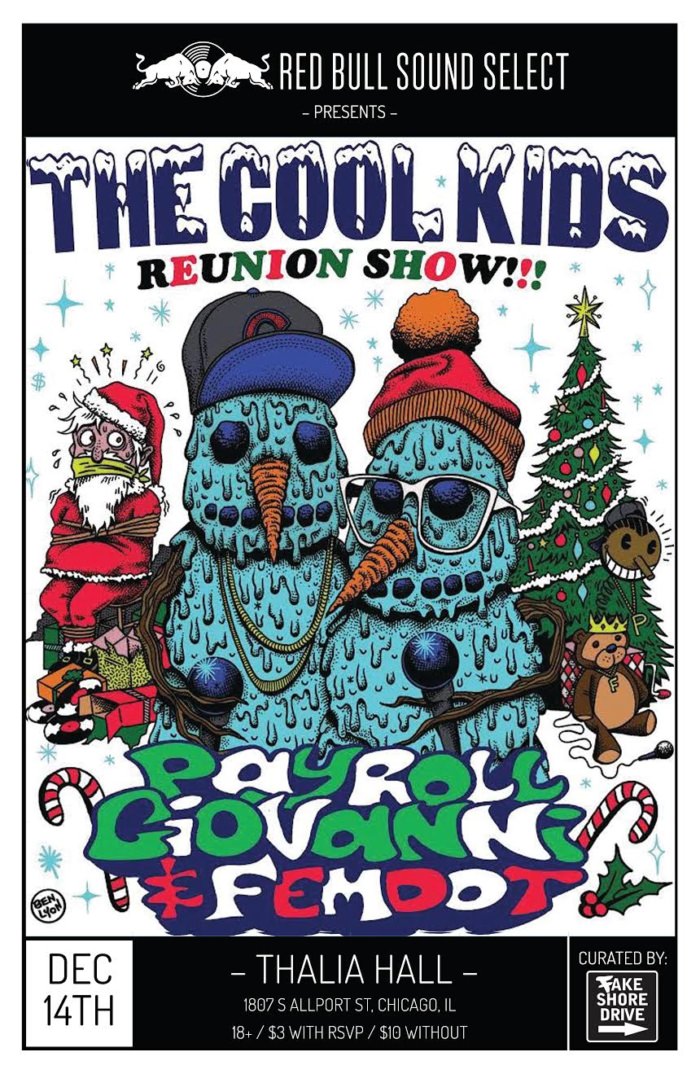 Art by Ben Lyon
In 2016, FSD alongside Red Bull Sound Select have brought us sold out performances by Soulja Boy, Too $hort and Playboi Carti. And for our final event of 2016 we're bringing it back home – with a very special performance from the legendary duo, The Cool Kids. I missed them, you missed them, we all missed them — so we thought it was only right to bring them back to Chicago for our year end/holiday extravaganza. The originators, none greater. Yes, the FSD/RBSS holiday event is upon us. our first holiday party and it surely won't be our last.
It goes down Wednesday, December 14 at the historic Thalia Hall in Pilsen. That's right, a bigger venue, so everyone can attend. One of the biggest complaints we receive is that we host our events at venues that are too small, so we went way bigger for this one. Thank us later.
Doors open at 8pm, and the show is 18+. Per usual, it's $3 with RSVP — $10 without. As always, early arrival is strongly suggested.
Rounding out the bill is our Detroit homie Payroll Giovanni, of the Doughboyz Cashout conglomerate. His Big Bossin Vol. 1 album with producer Cardo is one of dopest the projects of 2016, so it's only right we bring the Detroit Bad Boy to Chicago for his first-ever show in town. You're going to want to boss your life up for this one.
Holding it down for Chicago is Femdot, one of the most talented young artists in the city. He's had a breakout 2016, and dropped two next-level EPs. He performed at our RBSS show in Denver, so we wanted to put him in front of his hometown crowd for the year-ender. He has plenty of surprises in store, trust that.
Finally, someguynamedty will be DJing, so please believe it will be a night to remember. He does his thing each and every time he blesses the tables, so don't miss Shade 45's youngest in charge.
Location: Thalia Hall

Doors: 8pm

Age: 18+

Date: Wednesday, December 14th, 2016

DJ: someguynamedty

The Cool Kids

Payroll Giovanni
Femdot
Don't sleep on RSVPing, we promise it will be an event you won't want to miss.