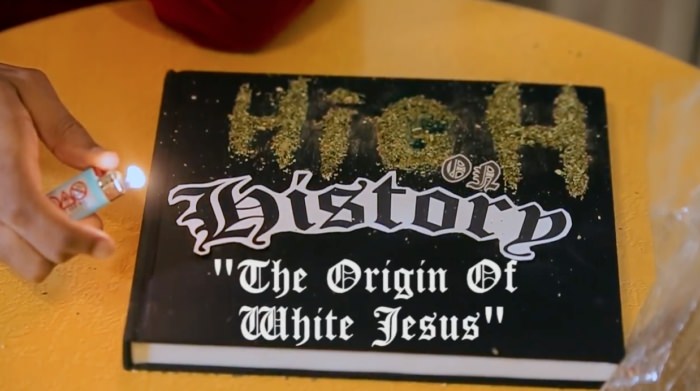 It is my great pleasure to bring you the world premiere and episode one of Mic Terror's brilliant new webseries, High on History. Mic recently showed me a rough of the first episode, and I was immediately impressed — it's one of the dopest and most creative projects I've seen, so we've partnered with him to bring you season one. Yes, this is going to be a lengthy project, taking you on a walk down memory lane in the coolest way possible. We can all agree that humans have lived a pretty fucked up and savage existence, so the best way to analyze the craziness is high. On pot. With Mic Da Terrible as your narrator.
Today, we kick it off with "The Origin of White Jesus." The full story of how White Jesus came to be, and where his pasty likeness came from. Because, well if you didn't already know, the pictures you see aren't what Jesus would have looked like at all. So how did this happen, well let history expert and brilliant mind, Mic Terror teach you. Class is in session — and there will be a test after this. Ha!
So sit back, relax and enjoy episode one of High on History. You'll be glad you did.
https://www.youtube.com/watch?v=MsK9q4tolho&feature=share