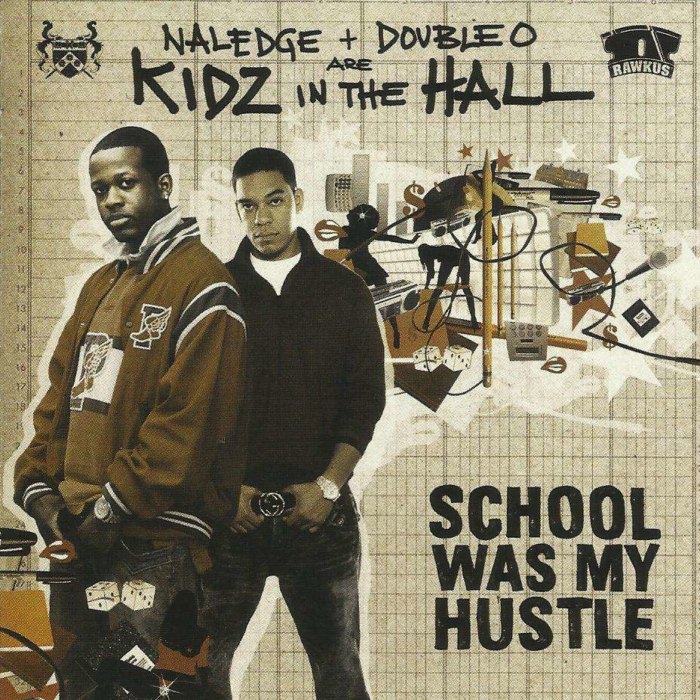 10 years ago, the duo of Naledge and Double-O, better known as Kidz In The Hall, were thrust into the hip-hop spotlight via their Rawkus Records debut, School Was My Hustle. The duo, who met as students at the University of Pennsylvania, were able to parlay their Ivy League education into a full blown rap career, with Chi City music industry legend John Monopoly guiding the way. The album paved the way for a new DIY scene in Chicago, the movement which now reigns supreme. Sure, school might've been their hustle, but these two were also able to see the future. Much of Chicago's current hip-hop royalty owe a lot to Naledge and Double-O, who undoubtedly set the trend for the current state of local hip-hop.
At the time, they were able to make their mark in a landscape controlled by major labels. They had a strong buzz and notoriety within the industry all while having to compete with other Chicago artists who had major label backing such as Lupe Fiasco, Bump J, Rhymefest and Kanye West.
In the decade since their emergence in the indie rap market, they've gone on to considerable success — as a duo and in their solo endeavors. For Naledge, school is still his hustle as he's pursuing a PhD at Northwestern, while recording music on the side and running his non-profit Brainiac Project. Double-O is still producing music, and is currently criss-crossing the globe as Lupe Fiasco's tour DJ. So yes, they're both still very much active in the music business.
On the 10th anniversary of their seminal debut, I caught up with both Naledge and Double-O to discuss the album and how they became a duo. Today, School Was My Hustle was also released as a reissue, now available on streaming services for the first time in history. Now, let's take a walk down memory lane with two of hip-hop's favorite scholars.
FSD: First and foremost, congrats on School Was My Hustle turning 10. Let's start here: how did this album come about? There's an interesting story behind it, correct?
Naledge: The project was pretty much an accident. It was a mixtape I wanted to release due to the frustration of having so much music ready but not being able to put it out. It seems crazy in this more modern DIY era, but at the time the label decided everything. Labels really didn't support just throwing away music that deserved bar codes. Rawkus believed in me only as strongly as Monop (John Monopoly) did, and he had a vision of me being the Chicago Q-Tip or Kanye with Kweli raps. I think the fact that the group project made him lose interest in me as a artist because it wasn't following his vision. Rawkus only bought the rights to it when they realized Mighty Mi was willing to put it out.
FSD: Were you two originally a duo? As Naledge alluded to, he had been 'discovered' by John Monopoly as a solo artist.
Double-O: Definitely. So when things first began musically for Naledge and I the group didn't exist. I was co-managing Naledge (with my partner Venchy) and producing him as a solo artist. It wasn't until mid-2004 when Naledge graduated and moved to LA (where I was training for the Olympics) that the group slowly started to form. Once we became a group things moved rather quickly. It basically took us about 16 months to go from group idea to management to deal with Hustle Period. It helped that Just Blaze was co-signing us and we were kind of right at the beginning of hip-hop sites becoming a source for new music on the internet so it moved faster than it may have a few years before.
When our manager presented us to John Monopoly it was as Kidz In The Hall. At the time there were no groups really breaking through so he thought it would be easier to break Naledge first as a solo artist then do the group as a side project. This was actually written into our contract with Rawkus which made it easier (later on) to put the group out first since there was a carve out.
I remember our co-manager Matt Marcus and I flew to Chicago to do the deal with John Monopoly and Rawkus. You would have thought we just we were signed to like Def Jam. I stayed at the W, hit like five different clubs. I was so gone I threw up around the corner from a spot and then just got in line like "We goin in right!"
So we had a ton of demos starting the recording process of Naledge's solo in February 2006. We never stopped recording from our previous Kidz In The Hall mixtapes. I was essentially operating as an executive producer on a Naledge solo album. So we had tracks from Xcel, Sa-Ra, Just Blaze, The Twilite Tone, No ID, and myself. We were just banging away at songs but Rawus didn't feel like we had a single yet. John also had an idea to release the album on MLK Day 2007. We decided that we shouldn't just wait to put that out and since we had a ton of stuff done, we would sit on the tracks for the Naledge album and put out a Kidz In The Hall mixtape in between.
Because of the previous contract carve out we could do it without asking anyone. So in June 2006, we started putting together a Kidz mixtape. Mighty Mi from High & Mighty was going to come on board to help put it out. Rawkus got wind of it and was basically like "No let us release it, Keep it all in house." We did a quick one-off deal with them for Kidz In The Hall. I got that project together in about six weeks taking records that Naledge and I had together and mixed them in like 2-3 days at Baseline studio's B Room. One of those days Jay was in the A Room recording Kingdom Come.
Naledge: We were a duo out of necessity more so than anything. We had a crew at University of Pennsylvania whom all were interested in the music industry but everyone fell off and got real jobs. Me and Double-O moved to LA with true Hollywood dreams and were starving artists living with my fraternity brother in Carson, CA.
Double-O was more like the manager and producer for me more so than us being a duo. My co-manager and Penn classmate Dan Solomito passed John Monopoly my demo and he saw the potential immediately.
FSD: what was John Monopoly's role in this album?
Naledge: Once Monop saw people actually liked the group, he helped tremendously in picking what songs were considered singles and bolstering me as an artist. He sent me to "cool camp" with DJ Word, The Twilite Tone, Timbuck2, Happy, Don C and Shareeff and a few others. I think he played the biggest role in inspiring me to get to know my Chicago rap history, giving me personal relationships with DJs and tapping into the scene for my own creation. He also was big on image – something he majorly did for Kanye — and he was who put me on to the vintage Polo game. Lastly, he is the reason we got regular airplay on WGCI and Power 92.
Double-O: John was really focused on marketing and A&Ring. So many of the records we didn't use came through John. Those all were kept for the Naledge's solo. The cover photo though is all John. We drove out to Chicago and shot a bunch of press shots in South Shore, Hyde Park and around Lake Shore. All that archival 'Lo (Polo) before eBay ruined it. That was all John.
FSD: You two also had an early relationship and co-sign from Just Blaze. How did that come about? 
Double-O: So, I met Just probably about a year or so before Kidz In The Hall existed.  I was in LA running track professionally but still needed a flexible day job. I ended up working at T-Mobile in Santa Monica. The day I began working was the day the Sidekick 1 dropped. In my head they were the perfect replacement for the two way pager. I started hitting up video shoots with them and immediately started getting attention as "the Sidekick guy." My homie Gerard, who was a producer at the time, also helped plug me in with a few camps and next thing you know Ja Rule, Irv Gotti, and Dave Meyers are hitting me up for the device.  Eventually, Just Blaze got in contact with me and I set him up as well.  When he would come to LA I would just help him out of he needed anything (he didn't drive at the time) and I was able to just sit in on sessions.  I mentioned that I produced but I never played anything for him until Kidz.  He slowly started to pay attention and would give us pointers.  One of his favorite records is a track "Doing My Thing."  It was saved for Naledge's solo but since that never came out it's on the rerelease.
FSD: I remember the split video for "Wheelz Fall Off ('06 Til) / Go Ill" getting a lot of airplay on MTV Jams, which was a new network at the time. YouTube wasn't really a thing yet, so you still had to go to TV to watch videos. In the video, there were a lot of cameos from Chicago stars, new and old. For some, it was their first TV looks. Talk to me about the video, and getting Twista, DJ Pharris, GLC, Really, Mano and Holt, etc. in it.
Naledge: That video cost like $58 dollars. Ha! We shot half of it in New York by this iconic graffiti mural and the other half in Chicago in front of Dave Jeff's original PHLI store. Hustle Period (John Monopoly's company) was a real movement at that point and we were at the focal point of it so everyone came together to be in the video. Everyone was pretty unified that day. It felt good to be from the crib and have everyone show love. DJ Pharris loved "Go-ILL" and was spinning it regularly (on Power 92) so Monop felt it would be dope to just have him introduce that record nationally in the second half of the video. Once we shot the video, Rawkus paid for some post production to clean it up a little.
Double-O: So "Wheelz" as a song had already been out on our mixtapes in two different versions [listen to the original here]. It was what kind of got people paying attention because most people never heard the Just Blaze (Lenny Kravitz's "Storm" remix featuring Jay Z) beat. So when it dropped in Hiphopgame.com people thought it was an official record. Later in '05 I ended up doing the "93 Til Infinity" flip because I thought the song stood as a great statement record. I got my homegirl Novena Carmel (Wallpaper) to come sing background on the hook since the melody was new. People loved it so we thought that we should drop it officially.
"Go Ill" was the second half of the video and it was one of John Monopoly's favorite songs. He wanted that to mean something for Chicago particularly. All praises due to John because he knew something was bubbling early in the Chicago scene and wanted to make that statement with this part of the video. It was shot in the courtyard by the PHLI store in Hyde Park. Because of what John Monopoly was trying to build with Hustle Period in Chicago there were a ton of people connected through that idea.
FSD: Double O, the album is very Chicago-heavy — with you not being from here — how did that weigh on you? I feel like people still feel like you're a Chicago guy. 
Double-O: They still think I am. I just had someone backstage at a Lupe Fiasco show talking to me about trying to figure out what High School I went to back then [laughs.] I never minded it at all. We first met at UPenn but the group didn't coalesce until LA. So we were all over the place and I knew that especially for rap we needed to be from somewhere. Naledge rapped, so Chicago was that place.
FSD: Do you feel like this was a breakout project for you?
Naledge: This project put us on the road and gave us the lane to travel the world. I think The In Crowd was our breakout project in terms of notoriety, but real hip hop heads still love this one more. It has stood the test of time and it influenced more people from an aesthetic.
Double-O: It definitely thrust us into the public conscious. The whole "Shaft In Africa" (sample on "Don't Stop") beat fiasco might have been more important than the album itself but that was free marketing we couldn't have imagined. Rawkus was still really big internationally so we had a larger impact overseas with that album than in the US. MTVU coming on board to help push us in some of their programs also helped introduce college kids and MTV Jams folks to us.
FSD: Talk to me about the controversy with the "Don't Stop" beat. For those who don't remember, what happened with that?
Double-O: Coincidence really. I think Kidz In The Hall, Just Blaze and Puff Daddy were searching for a certain kind of sound that was missing in hip hop at the time: 100+bpm like "Lookin at the Front Door" or "Know The Ledge." Somehow Shaft In Africa became that soundtrack.
Our album was submitted for reviews in September. When "Show Me What You Got" dropped it was October. So all the reviewers assumed Just oversaw our project and thought he stole our record. Then Puff thought the same because Jay-Z had been a part of some writing sessions where his version might have been played as well. It led to this whole controversy about the record. We got thrown into conversations with Jay and Puff so that immediately increased our profile from undergroundRrawkus act.
Just was doing Just Blaze TV on YouTube at the time and we decided to make a skit poking fun at it. I was classic I wish it was still online somewhere.
FSD: Being a part of the Rawkus legacy was dope. How did you link with them?
Double-O: It is. John Monopoly was president of G.O.O.D Music at the time. He had just signed Sa-Ra and they were managed by the Rawkus guys. So when we came across his desk he thought that they would be a great fit to be a priority over there.
Naledge: It was a trade between John Monopoly and the Rawkus guys (Brian Brater and Jarret Myer) He signed Sa-Ra and they signed me via their distribution with Sony. Kidz in the Hall truly was supposed to be a one-off project similar to Foreign Exchange or Reflection Eternal. It just so happened people gave it critical acclaim.