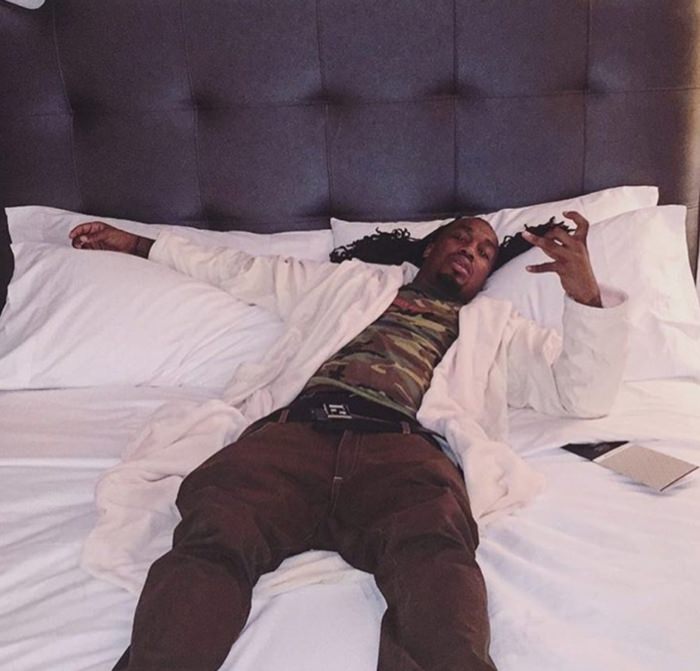 DNA Info is reporting that Chicago artist and rapper behind the 2013 hit "Fe Fe On The Block," Stunt Taylor, has been arrested and charged with using a stolen credit card to book out a block of rooms at the pricey Waldorf Astoria hotel in the Gold Coast — and renting them out AirBNB style.
He's been charged with a class 3 felony, and his bail is set at $75,000.
The man racked up nearly $7,000 in fraudulent charges on New Year's Eve and then tried to turn a profit renting the hotel rooms via social media, prosecutors said.
"Why not go to the Holiday Inn?" Cook County Judge Adam Bourgeois Jr. asked during a bond hearing Tuesday. "It wouldn't be that much money."
According to court records, 27-year-old Kyle Taylor booked at least two rooms at the Gold Coast hotel at 11 E. Walton St. on Dec. 31.
He used a stolen credit card to charge $6,228.53 in hotel charges and an additional $536 in valet fees, an arrest report shows. Hotel staff realized the card was fraudulent when Taylor tried to book additional rooms Jan. 1, prosecutors said.
The suburban Oak Park resident was caught "advertising rooms for sale" via Instagram and Twitter, Assistant State's Attorney Lorraine Scaduto said in court Tuesday.
Taylor is charged with theft/deception, a Class 3 felony.
According to defense attorney Stavri Vako, Taylor works as an entertainer and rapper.
No one wants to be a victim of credit card fraud, but cardholders are typically only on the hook for up to $50 in unauthorized charges, thanks to the Fair Credit Billing Act. But by the time the card is canceled, the fraudster has often made several purchases — hurting the retailer in the process.
"Card-not-present" fraud, also known as remote fraud, which encompasses debit cards, credit cards, and other types of payment cards, increased 29% in the United States between 2015 to 2016. And in 2018, this type of fraud cost $27.85 billion in worldwide losses, according to The Nilson Report. That figure is projected to rise to $40.63 billion in 2023.
In an effort to help lock out carders, online merchants have implemented security measures that can help protect consumers and sellers. Here are several of them.
Multifactor authentication (MFA): This method adds steps to the login process beyond entering a username and password. For instance, the merchant might send you a text message with a code that you type in before using your card. Carders would need to steal your credit card number and your phone to break into your account, which is unlikely.
CAPTCHA: A CAPTCHA is a type of challenge-response test that helps an online merchant verify you're a human shopper. For instance, you might have to read and type out a block of distorted text. C

arders forum

who test hundreds of cards using automated bots will be forced to manually log in, so websites that use CAPTCHA are less-appealing targets.
Address Verification System: Merchants use this fraud-prevention measure on card-not-present transactions, such as online purchases and phone orders. The cardholder will provide their credit card's billing address at checkout, and the AVS compares the address you enter with the one in the card issuer's system to verify it matches. The transaction will be declined if the shopper fails this test.
Card verification value (CVV): Cardholders may have to enter their card's CVV at checkout. This is a three- or four-digit code usually listed on the back of the card. This is supposed to prove the online shopper has possession of the physical card, not just a card number they've purchased on the dark web.
Velocity checks: In this context, velocity is the number or speed at which transactions are made in a given time. Merchants use this metric to identify irregular patterns in the checkout process that might indicate fraud. For example, it's unusual for someone to make several purchases within seconds or minutes of each other. Merchants can decline transactions if they believe a robot is testing a stolen card number.
Authorization/capture: Using this method, a merchant verifies that your card can be charged but holds off on collecting the funds from the card issuer. Gas stations, for example, typically authorize a small amount and wait a few days before charging the rest to the card. If there are signs of fraud during the transaction review, the merchant won't request funds from the card issuer. Instead, they'll issue a refund to the cardholder.
Payer authentication systems: Have you ever received a call or text from your card issuer to check on a transaction you've made? That can happen when the merchant uses a payer authentication system, such as 3-D Secure or Verified by Visa. These systems verify your identity at checkout by transferring data between the online merchant and your credit card provider. The provider can compare your transaction with information such as your shopping history, the device you're using, and your spending patterns.
Judge Bourgeois on Tuesday set bail at $75,000.
Update: Stunt has confirmed he's a free man