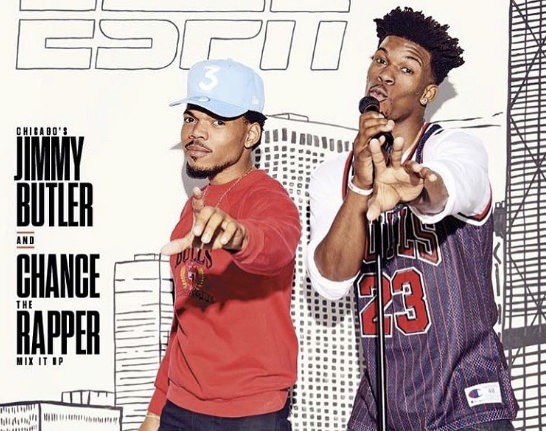 Fresh off his three Grammy wins and announcing a nationwide stadium tour, Chance's full ESPN cover story with Jimmy Butler has dropped. He's everywhere right now. Crazy, right?
In a sit down with Justin Tinsley, Chano and Jimmy talk about hoops, hip-hop and hope in Chicago. It's a very dope interview and a music read/watch. You can check out an excerpt below and read the full piece here. I've included a number of video clips below courtesy of ESPN.
TINSLEY: Whether you like it or not, you two are the new faces of Chicago. What's that responsibility like?

BUTLER: It's cool because every morning, you just have to continue to be who you are, do what you did to get you to this point. That's the way I look at it. And in this city, that's all anybody ever asks of you is to work hard. When you bring that, they love you.

CHANCE: I don't know how Jimmy does it 'cause he's not from here, but that's a lot of weight, right? Just carrying, like, the reality of it, the aggression and, like you said, the hardworking attitude. But also being a person of influence in a city that's so small, it's so communal, everybody knows each other here. I was raised here, and it's been kind of a fishbowl thing—I've swam around a bunch of times. But I feel very comfortable, and it's good to still live here.

Chance the Rapper and Jimmy Butler on Trump's "I will send in the Feds!" tweet

Hip-hop and basketball come together

Chance the Rapper and Jimmy Butler want to use their fame to make a difference