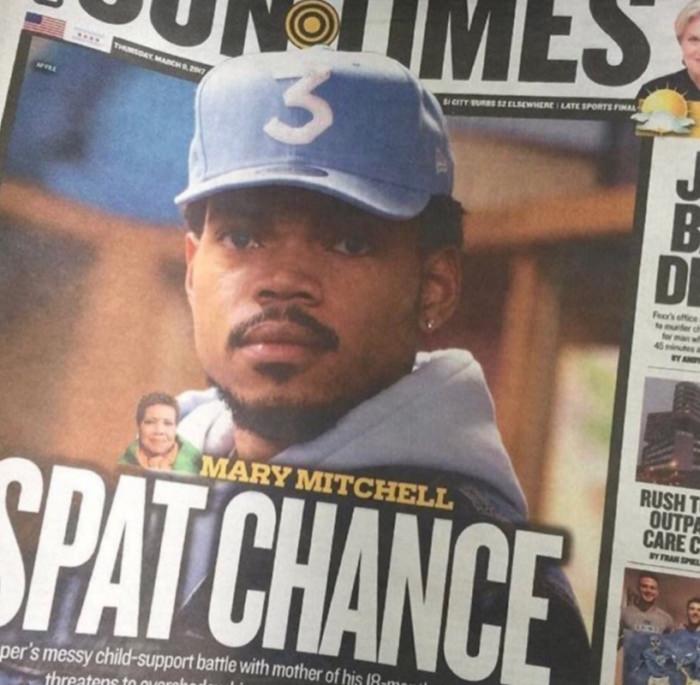 Yesterday, for reasons still unclear to me (and most), the Chicago Sun-Times ran a hit piece of Chance The Rapper, just days after he pledged a $1 million dollar donation to Chicago Public Schools. The donation was a sign of goodwill that inspired a sea of change throughout the entertainment industry — garnering acclaim globally. But this wasn't some savvy PR move, this is real Chance. This is the school system that raised him and his family, and a cause he firmly stands behind. He's out to create change and he's always played by his own rules.
That said, the attack on Chance by writer Mary Mitchell seemed like an orchestrated hit. From who? Well, I'll let you decide that. But Mary's piece called into question Chance's child support issue with the mother of his daughter. I'm not even going to get into that, because that should be a private matter, and they are together — not to mention I'm friends with both. But I will say that the article was ridiculous and unnecessary. It was a deliberate attack on a man who has done nothing but uplift his city. True, Chance is a public figure, but let's be clear that it this an attack. Gotta move papers, right? I get it, but come on…
I was offline for most of yesterday, but when I returned, I quickly caught up on the tomfoolery. People weren't happy with the Sun-Times or Mary Mitchell. In fact, I can only imagine what her mentions looked like yesterday. But if you know anything about Chano's career, then you know his fans are serious. They're ride or die. And they WEREN'T going for this article. So much in fact, that a group of fans have started an online petition calling for a boycott of the Chicago Sun-Times: 'Defend Chicago's Own Chance The Rapper: Boycott the Chicago Sun-Times'
Says the petition:
Yet despite his efforts, Mary Mitchell, a columnist for Chance's hometown paper the Chicago Sun-Times, penned an op-ed entitled, 'Child-support spat could hurt Chance the Rapper's image,' in a clear effort to defame Chance'a character after he took the Governor to task for choosing political self interest over Chicago's children.

I believe we as the people have grown tired of newspapers running nonstories and alternative facts that reek of political influence in attempts to uplift those who could care less about our city, while knocking down our true champions.

I am calling on Chicago to send a clear message to the Sun-Times that such tactics will not be accepted. Chicago is taking a stand for Chance, like he has taken a stand for the city.