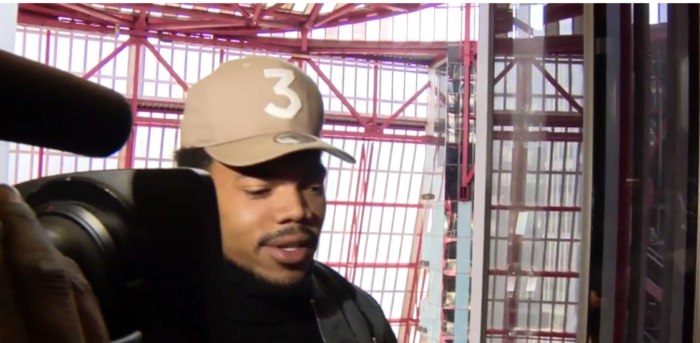 Today at 2pm CST, Chance The Rapper will be hosting a press conference at Chicago's Oliver S. Westcott Elementary School in his native Chatham neighborhood. Chance will be livestreaming the press conference on his Instagram.
This press conference will no doubt focus on CPS funding as well as his disappointing meeting with Governor Bruce Rauner, which took place last Friday. Details on the press conference are scarce at this time, but you can expect some big words and developments from Chance, who is personally leading this crusade to help save schools in Chicago. Stay tuned for more details.
Thank you Chance.
At 2pm CST I'm holding a press conference today at Westcott Elementary School. I'll be livestreaming globally via @instagram

— Lil Chano From 79th (@chancetherapper) March 6, 2017
Update: Hours before Chance's planned press conference, Governor Rauner has announced two potential plans to help fund the cash-strapped CPS. The Chicago Tribune just shared his ideas:
The first option presented by Rauner Monday includes passing legislation that would allow Mayor Rahm Emanuel to tap into the city's Tax Increment Financing funds to cover the cost. The other once again ties the money to passage of a larger overhaul of the state's pension retirement program.

"However, given the extraordinary mismanagement of both the city and CPS budgets, legislation could be enacted to authorize a one-time mayoral transfer of $215 million from Chicago TIF funds to CPS," wrote Michael Mahoney, Rauner's deputy chief of staff for policy and legislative affairs.

For Rauner, the two options are a way to respond to public pressure from Chance the Rapper while also putting the onus elsewhere. The TIF district idea makes coming up with the money the problem of state lawmakers, Emanuel and potentially aldermen. The pension idea, if executed, would get Rauner a long-sought item from his legislative and economic wish list while requiring Democrats who control the General Assembly to go against their union allies that oppose the changes to the retirement system.
Read the full Tribune piece here.
Update: Chance The Rapper has donated $1 million dollars to Chicago Public Schools. You can donate here.
LEGEND. pic.twitter.com/fhGklz3Bb1

— Andrew Barber (@fakeshoredrive) March 6, 2017
.@chancetherapper IS DONATING 1 MILLION DOLLARS TO CPS!

— Andrew Barber (@fakeshoredrive) March 6, 2017
Chance is using ticket sales from his upcoming tour, as well as funding from Live Nation, AEG and independent promoters and venues

— Andrew Barber (@fakeshoredrive) March 6, 2017
For every $100k donated, Chance's Social Works non-for-profit will match it with $10k

— Andrew Barber (@fakeshoredrive) March 6, 2017