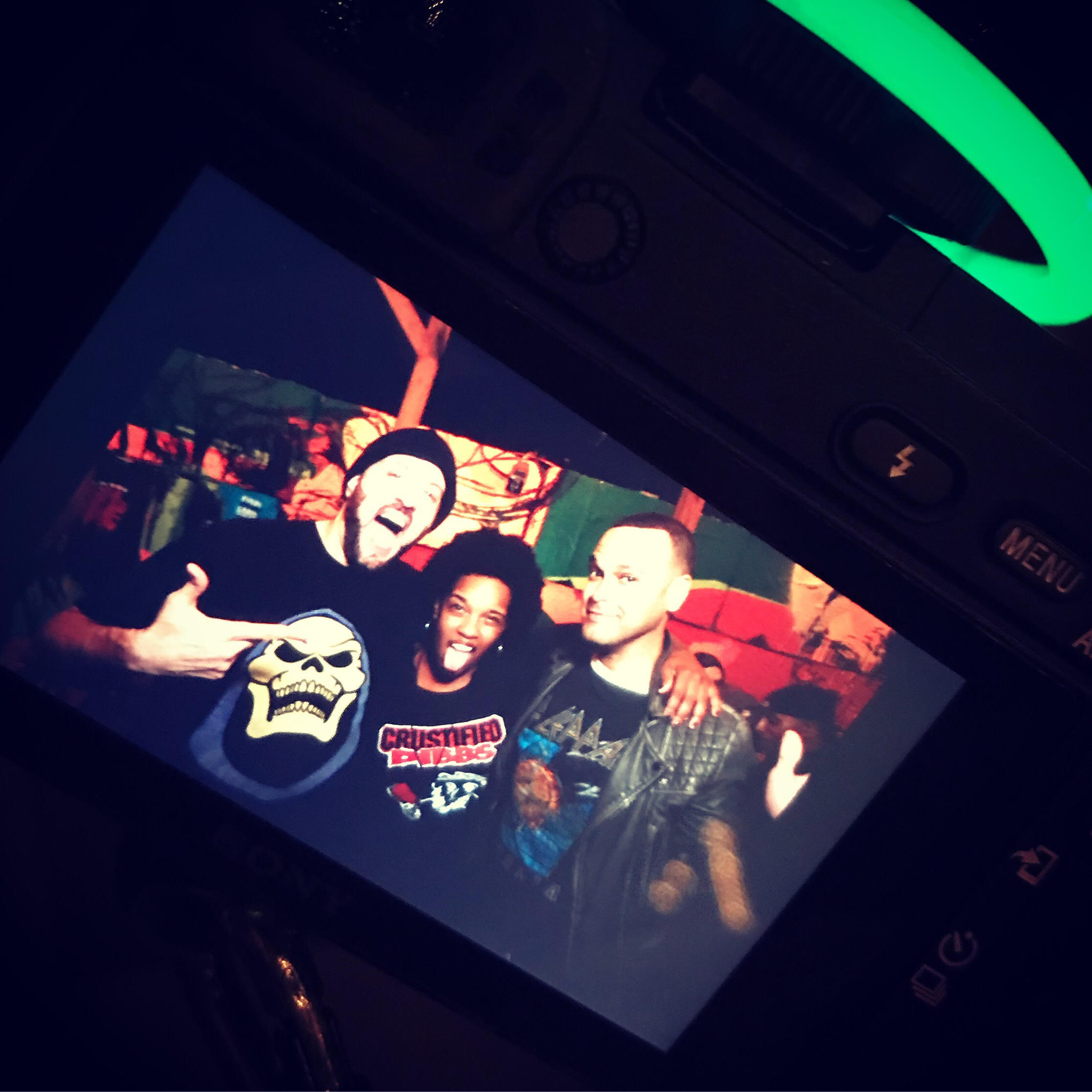 Editors note: Psalm One is currently on tour with ICP. When she told me this I had to get details. I'll let her take it from here in this dope guest post from Psalm One…
Andrew Barber asked me to write about a "Day in the Life" of touring with the Insane Clown Posse. I am on the last week of a 36-date tour, which will culminate at the Portage Theater in Chicago on Sunday, October 29th. Here's what happened at the Brooklyn show.
6:30 am: I wake up and make sure the crew is up. We have to leave Greensboro, North Carolina by 7:30 am to ensure we won't hit too much NY traffic. I am skeptical.
7:45 am: we finally leave North Carolina. I am skeptical lol.
11:15 am: We are still in the van…we learn that tonight's show in Brooklyn has been moved. Again. And that doors are early as hell. These ICP shows are much earlier than normal hip hop shows, because most of them are all ages shows, and each state has curfew laws. Not to mention the venues private policies.
3:00pm: somewhere near Delaware we decide as a group to do a video cypher. I hop in the driver's seat, pick some beats and myself and Passionate the MC (second vocalist/driver) go to work while we make the trip closer thru the metro.
You can find the video on my IG: @psalmone (quick plug lol)
4:00pm: We are so close, yet so far from Brooklyn. Venue got changed for the second time TODAY, and we just found out that we go on stage at 7:30pm. And we're still over an hour away from our hotel. Insert low key panic. But we're all soldiers so we'll get there.
5:30pm: after one wrong turn off the NJ turnpike we got to Brooklyn in the middle of rush hour. Took us 30 minutes to get 3 miles. I love NYC!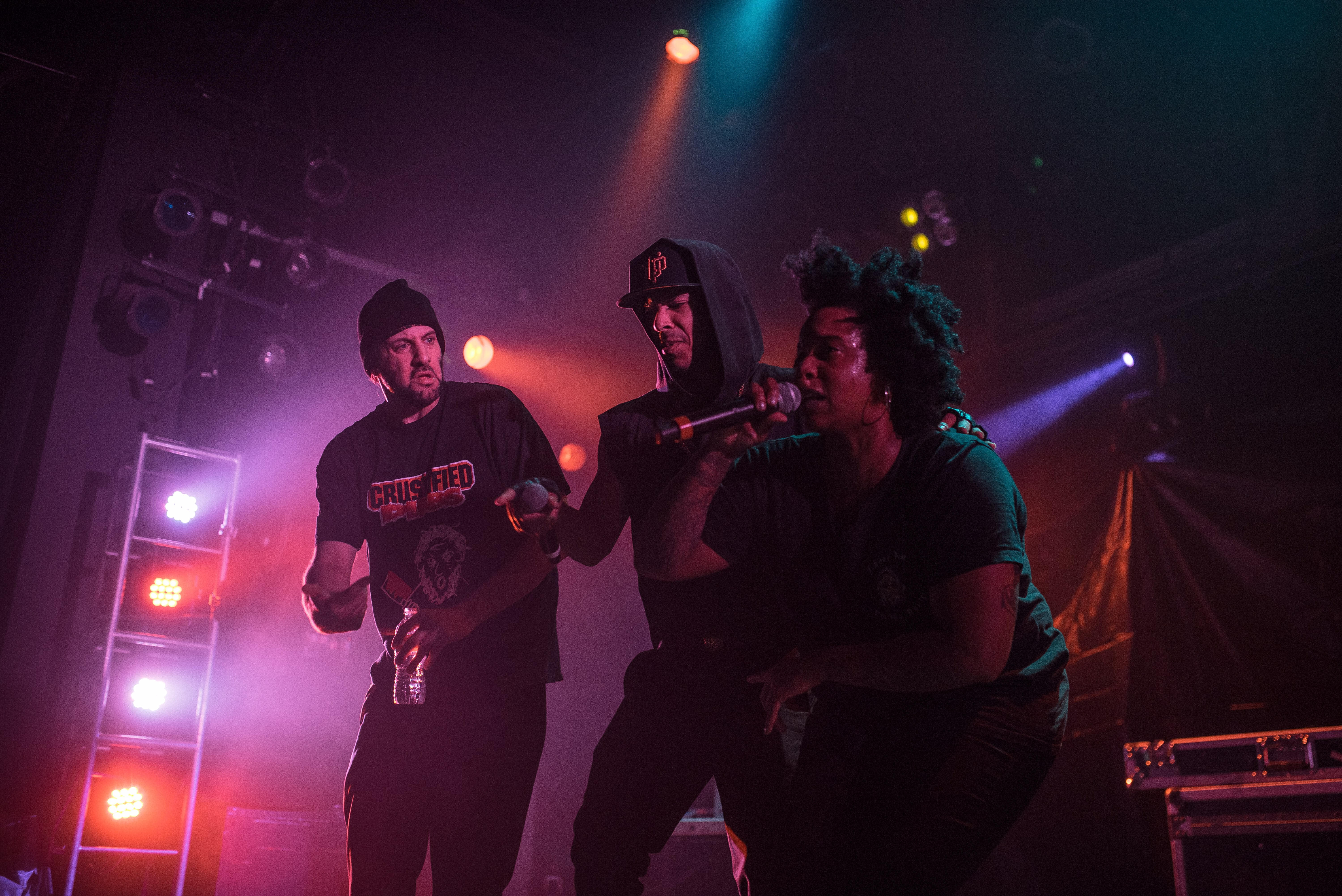 5:35pm: We check into the hotel and I take the quickest shower ever! I think it may have been a personal record. Then, we turned right back around to speed to the venue. There is no artist parking, which means we have to find street parking, and we go on super early. We have to be machines at this point.
6:45pm: We arrive at the venue and immediately see NYC friends. Most of our green rooms have been tame, but here is different. I am overwhelmed in the backstage area, but in a good way. I feel all the love. Shouts to Mr. MFXquire, Louis Logic, Optiks Beats, Mean Joe Scheme and all the rappers who came to celebrate on tour with us.
We realize the sound is bad but we can handle it.
7:45pm: we hit the stage about 15 minutes later than scheduled, and tear through our set! RA has a segment where he brings fans on stage, and this Juggalo (with clown makeup on, mind you) got kicked off stage for pushing RA too much while he was trying to rap. Juggalo dude was so butt hurt about being ejected that he started screaming homophobic slurs at RA and started threatening him. But of course he didn't do shit when we got off stage. He just kept mean mugging but shutting the fuck up. He knew he was powerless and tried nothing. All that tough talk when we were onstage. Not surprising. Note to fans: if you don't want to get kicked off stage, don't push a rapper's torso when he's trying to rap. Also, if you don't wanna get your ass beat…STFU.
8:30pm: I'm drunk. Haven't been drunk on this tour much, because hangovers in a van the next day are the worst and I don't have time to be sick. My long time producer and friend Optiks and I caught up at the bar, and my overseas tour manager came with her boo. RA had family at the show too, which meant the drinks were flowing. It was nice to see familiar faces and I feel like a little piece of home was here with us in New York.
I end up securing lodging with my best bae Mahrinah and hang out with my friends a bit more. I sell some merch, talk to some fans and after we watch ICP flood Brooklyn in Faygo, I get a Lyft sent to me.
12:00am: I get in the Lyft on my way to Manhattan, to crash at my friend's fancy ass downtown apartment with a view of the Hudson. We catch up, talk about family, friends, dreams, failed Rapperchicks and tour and we hug so much it fills my soul. I didn't know I needed a good friend's company so badly until I got it. Tour has a way of isolating us, even when we're around literally thousands of people every night. They even fill me with food so I don't have a hangover in the morning. So clutch. So thank you Mahrinah and Yousef — your hospitality leveled me up for the rest of this run!
8:30am: I wake up, look at the Hudson and prepare to leave for the next show. We have breakfast, coffee and my friend introduces me to some new rappers. I'm ready for the day.
11:22am: my crew picks me up and we are on the way to the next show, in Worcester MA. THANK YOU NEW YORK CITY. Let's always be in love.
The last show of tour is in Chicago on Sunday. I didn't even mention how crazy the ICP show is, so pull up on me, Chi. We got a lot of surprises. Whoop whoop.
Get tickets HERE