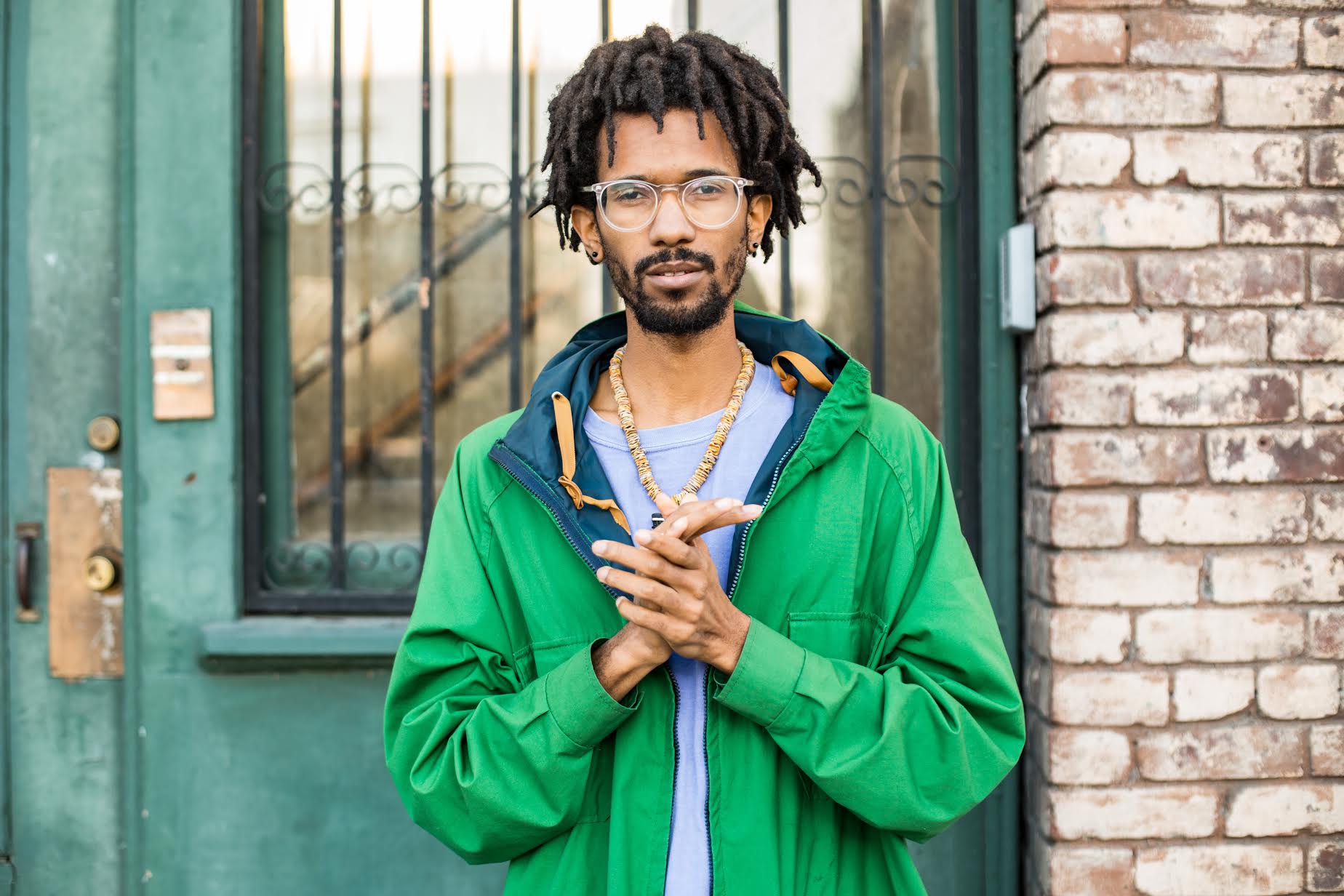 Photo credits: Justin James Agoncillo.
Cam O'bi, aka Cameron Osteen, has found success in himself. By the age of 28, he's worked with some of the biggest names in hip-hop including J Cole, Big Sean and SZA. He worked on Grammy winning material with Chance the Rapper's Coloring Book, and he even played a role in kick-starting the Chicago hip-hop renaissance with his work on Vic Mensa's Innanetape and Chance's Acid Rap. And he's done all this without selling out, changing his style or being anybody but himself.
When I met Cam at Classick Studios in Chicago, I was surprised. His music is animated, colorful and dramatic, but he is calm, thoughtful and relaxed. As we wait, he sits on his phone trying to find the "coziest" coffee shops in the neighborhood, and I realize how much thought and purpose he puts into every decision, no matter how small. Once I understood that, I felt I understood his music so much more.
Take "Tenderheaded," the first single off his upcoming debut album, Grown Ass Kid. Featuring Smino, a beautiful choir and a baby's giggle — you know, one of those baby giggles you can't help but smile at — the song is lighthearted and bright on the surface. Under that surface, though, are layers of depth and meaning, the first being the most obvious: "Tenderheaded" is a metaphor for loss of innocence.
"I'm telling [true] stories from my childhood about times where I encountered the real world, and how it hurt me," he explains. This is most obvious in the verse, where he shares some pivotal experiences: "Walked in the barbershop asked me what I wanted / I told the man I wanted to look like Superman / But when he had the long hair / You know? Kinda like Michael Jackson?"
The second layer, he explains, is a little more subconscious. "When I was a kid, I used to hate myself because I was black," Cam said. "I wanted to be as far from black as possible, and on Tenderheaded I kind of make light of it." When schools teach about the "great men" in history, they talk about Thomas Edison, Benjamin Franklin or Abraham Lincoln, but rarely (if ever) talk about great men of color. This took a toll on Cam.
"I wanted to be white because everybody I looked up to was white," he explains. "Whenever I was taught about a symbol of excellence in society, they were white." Lack of representation made him internalize racism and turn it on himself, creating an inferiority complex that he's dealt with his whole life. "That whole story in my first verse is about me not liking what I have, and wanting to look like Michael Jackson or Superman. It's about that pain I felt when I realized I couldn't."
After a sort of quarter-life crisis, Cam started to analyze where the roots of this self-hatred were coming from, and he realized the power of the subliminal message and the subconscious. "I hated myself, and nobody even told me to."
Cam now had a newfound mission. "[Artists] are supposed to use our art as a way to reverse the damage that was done to us by the media. I want to use Edward Bernays' [propaganda] technology to get people to believe in themselves instead. In my songwriting, everything has to be a metaphor because metaphors are subliminal. They're not overt with the conscious mind."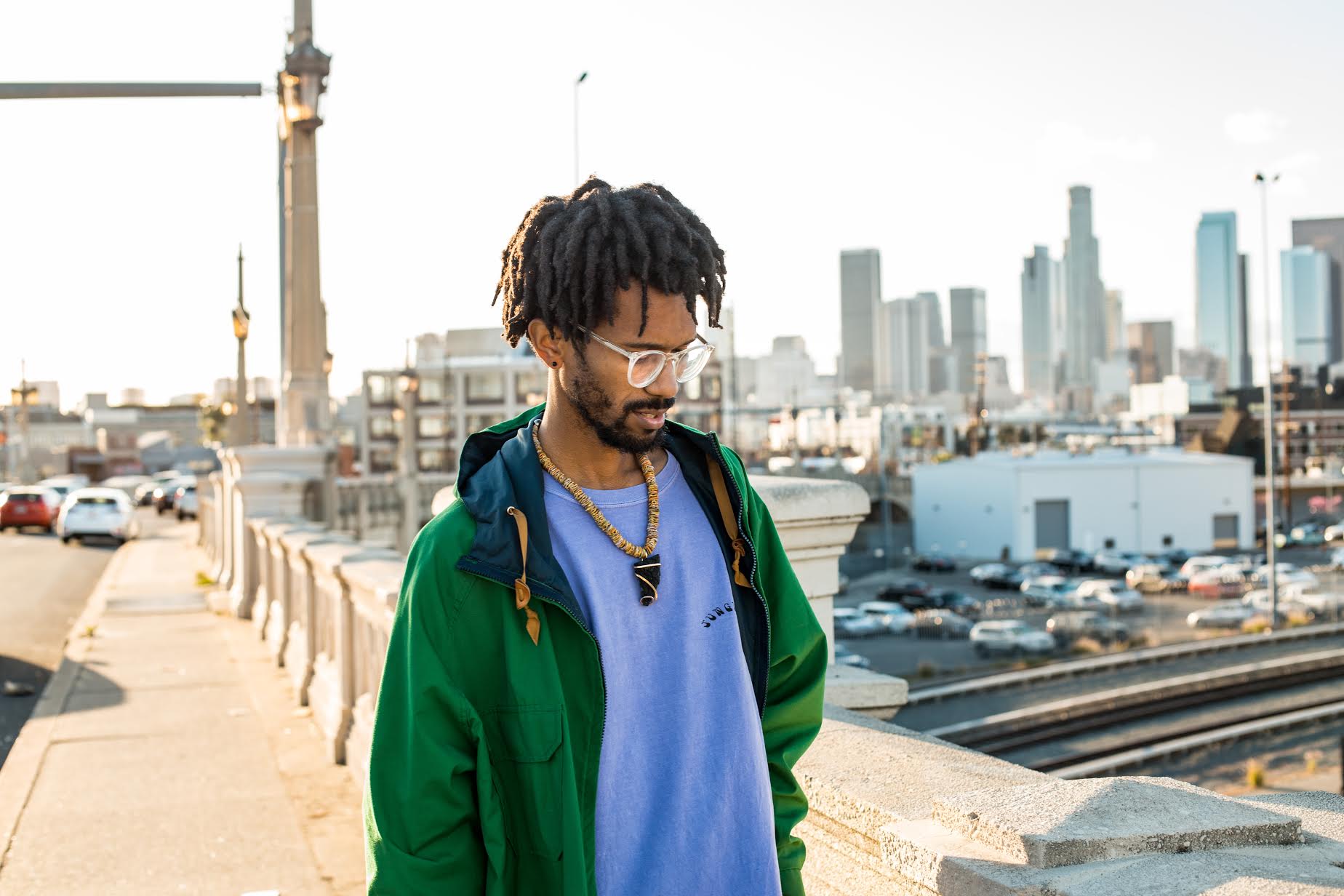 Cam's success has always been through himself. He's never changed his style to get the big name features he's gotten. He hasn't been pressured to finish his debut album. He's doing things on his own and in his own way, even if it's not the easiest way. "The song I produced for [Big Sean] sounds like nothing else Sean did or had done," Cam said.
Originally from Las Vegas, Cam moved to Chicago on a whim. He knew only a handful of people and didn't have a place to live. He started staying at a local studio, where he would make whatever money he could by selling beats. Eventually he met Mensa, and everything changed. "Looking back, I really bet everything on the music, and I'm proud of that."
Cam still operates like this. He's still betting everything on the music, and sometimes things don't work out. He's had albums shelved by record labels because the music turns out too far left, and has bumped heads with his former crew, the J.U.S.T.I.C.E. League. "Nobody wanted to take a risk on my sound. They wanted me to do what was 'hot' right now. I refuse to copy what other people are doing."
Having this chip on his shoulder led Cam to start working on his own album. He stopped making beats for other people and started focusing on his own sound. If nobody was willing to take a risk on him, he'd have to do it himself, starting with "Grown Ass Kid," which was meant to be the title track to Cam's album.
Eventually, him and Chance decided it might be cool to do two versions of the song, one on Coloring Book and one on Grown Ass Kid, but when Chance's version didn't clear, the plan was nixed, and Cam was back to having one version, his version. Then it leaked.
"Everybody thought it was Chance's song," Cam said. "My album has been called Grown Ass Kid since 2013, but when people found out [the track] was going to be on my album, they were like, 'Oh, so Cam is calling his album Grown Ass Kid after that song.' No, the song is named after the album."
Cam O'bi isn't looking for the "good look". He's not interested in being anybody other than himself. He's only interested in making good music and changing the world.
Make sure to check out Cam's latest single, "Tenderheaded", available now on all streaming platforms.