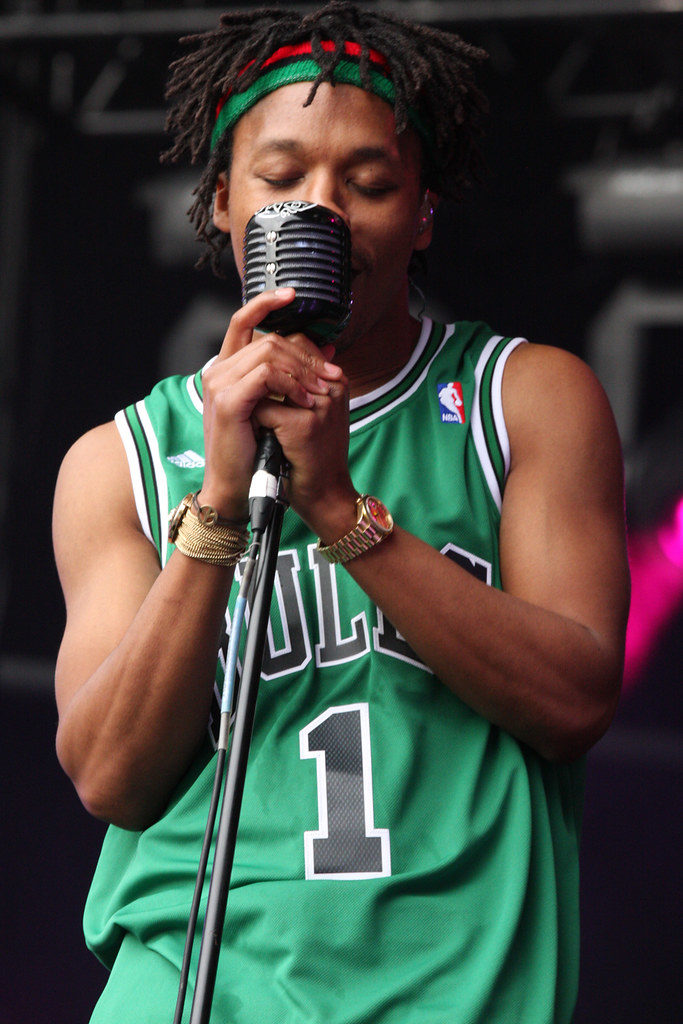 Image by Eva Rinaldi CC BY-SA 2.0
(Caption: Lupe Fiasco – just one of the Bulls many celebrity fans from the music world)
Madonna once sang about how 'music makes the people come together', but here in Chicago, it seems to be the other way round, with the people on the basketball courts making the musicians come together. A whole host of international music stars have been spotted courtside at the United Centre, cheering the Chicago Bulls in the NBA, including some of the biggest names in rap and rock. So let's take a look at who's bringing the beat to the Bulls and check out some of the other famous names supporting sports teams around the world.
Big name Bulls fans
The Chicago Bulls are a long way from the bright lights of Hollywood, but they still attract their fair share of celebrity fans. Basketball movie star, Bill Murray, who played with none other than Michael Jordan in the 1996 cartoon caper, Space Jam, is a regular at games, as is talk show legend, Jerry Springer. Even former president, Barack Obama has been spotted watching the Bulls play ball.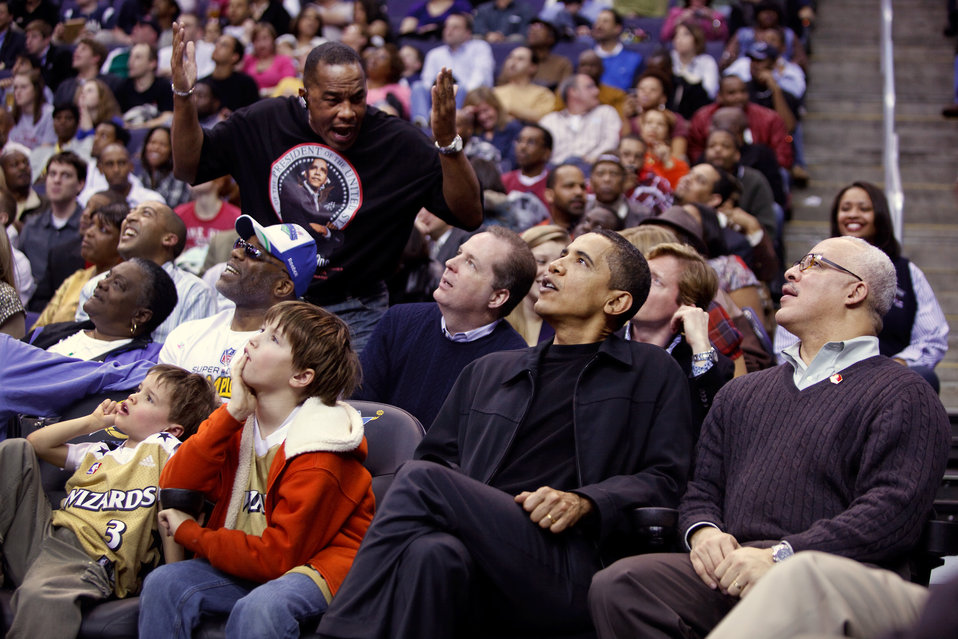 (Caption: President Obama watches the Chicago Bulls take on the Washington Wizards)
From the music world, it's hard to imagine a bigger, or more influential music star than Aretha Franklin taking her seat in the stadium, while from the rock scene, Twisted Sister frontman, Dee Snyder has sung the national anthem at a Bulls game before now and Fall Out Boy's Pete Wentz is known to be a huge fan.
Courtside rappers
The Bulls seem to have an affinity with the rap world in particular, with Chicago rapper, Lupe Fiasco, often spotted in the United Centre crowd, and Chance the Rapper closely involved with the club in other ways, as we shall see later. Even megastar music mogul and fashion entrepreneur Kanye himself has been known to appear, and to entertain the crowds with an impromptu performance, during Bulls home games. Sadly, this year West will have to look a couple of lakes to the east for NBA finals action, where the Toronto Raptors are the Oddschecker favourites for the NBA Championships against the Golden State Warriors.
Superstar soccer fans
Of course, the Chicago Bulls are not the only team with celebrity fans from the music business, although some of the biggest stars support the last team you might expect. Urban music pioneer, Dr Dre, is a surprise fan of current European Champions, Liverpool Football Club, after seeing them play during an NWA tour of Europe back in the 80s. Former Nirvana drummer and all-round Mr Nice Guy, Dave Grohl, had a similar experience, falling in love with East London club, West Ham United, when he saw them play during a UK tour. Others keep their support closer to home, such as Canadian rapper, Drake, who saves his support for his hometown club, Toronto FC, and dance music innovator, Fat Boy Slim, who goes a step further than most celebrity fans by actually owning 12% of his local soccer side, Brighton and Hove Albion.
Chance brings the Bulls on board
Sometimes, a big name music star's affilation with a local sports franchise can bring unexpected benefits. Chicago superstar, Chance the Rapper, has been raising money for his Chicago Public Schools initiative since early 2017, when he started his fundraising efforts with a cool $1million of his own cash. Since then he has been encouraging local businesses and other organisations to match his generosity, adding a further $10,000 personal donation for every $100,000 pledged. This incredible generosity paid off handsomely recently when Chance appeared with Chicago Bulls team president, Michael Reindorf, to accept a $1million cheque from the NBA team for his charity.
Whether rapping at the courtside, like Kanye West, or recording music for the team, like Fall Out Boy and Lupe Fiasco's version of Only the Bulls, the city's music and sports scenes seem to be inseparable. And if that can raise spirits, and raise hard cash for good causes, then long may it continue. If only it could lift the Bulls back to their glory days of the 1990s.