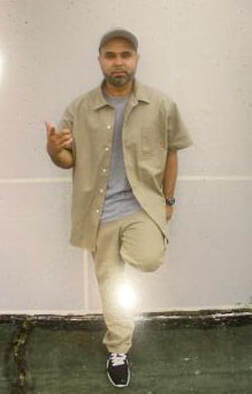 Anwar Shahbaz-Lopez is a longtime fixture in Chicago's Hip-Hop scene. Over 20 years ago, he started the storied music, lifestyle and streetwear shop, The Bassment, which had various locations all over the city. Its final stop was in Ashland in Wicker Park, and hosted some of the biggest events of the blog era (including Lupe Fiasco's release event for The Cool.) After The Bassment closed in 2013, Shahbaz would go on to open The Box, an art gallery.
Unfortunately, Shahbaz found himself in some trouble a few years ago and is currently five years into a 10 year sentence. We recently reconnected with Shahbaz via email and after a quick catch up, he sent over a guest blog post about being a cellmate with the infamous Billy McFarland of Fyre Fest fame. I'm guessing most (read: all) readers are familiar with what happened at Fyre Fest, so it's interesting to read about Shahbaz's time with him.
If you'd like to read some of Shahbaz's blog posts, you can do so here. 
If you'd like to contact Shahbaz, you can do so here:
ashahbaz9424@emailinterface.org
ANWAR SHAHBAZ-LOPEZ #45929–424
FEDERAL CORRECTIONAL INSTITUTION
PO BOX 1000
MILAN, MI 48160
www.streetdreamschicago.org
So without further ado, read about Shahbaz's time as a "roommate" of Billy:
What's up yall…

Just wanted to keep you guys posted on the latest here at FCI Milan. For the last four years that I've been locked down, it's been tough to find people in prison that I had anything in common with, especially from being around this cesspool of drug addicts, career criminals, and sex offenders. 

With that said, I recently had the privilege to be around someone who I could kick back, build, and share ideas with every day. For the last year, I've had the honor of sharing my bunk bed with none other than the big homie, Billy McFarland, from that infamous Fyre Festival.

Yup. The internet whiz kid from that Netflix and Hulu special. The same guy who created startups like SPLING and MAGNISES. That so-called swindler or fraudster that the media depicted him as, is actually someone I could call my friend!

It's crazy because out of the 125 BOP institutions, Billy not only ends up being at the same prison as me, but also sent to my same exact unit (out of the 10 total) where he eventually ends up becoming my celly (or bunky more accurately since there were no cells).

When I first met him, he told me he was originally at the Otisville camp on the East Coast. I had read that a bunch of famous dudes were doing time there like Michael Cohen (Trump's former lawyer), Mike "the Situation" (from Jersey shore fame), and Billy McFarland (from the Fyre Fest). Once asking him about the first two, he confirmed that he indeed was doing time with them.  I asked him, "Yo, were you there with that Fyre Fest kid?" To that he replied, "Hey man, that's me!"

I never really knew what this guy looked like, but I had read about his story because I always kept a pulse on what went on in the industry. I never mentioned him before here on the blog because we wanted to stay under the radar, especially since the administration was on his ass. The reason he was transferred here in the first place was because he got in trouble at FCI Elkton, where he spent 10 months in solitary confinement for starting a podcast. Prior to that incident, he also had trouble at Otisville over some other BS he got into.

Anyway, it's not every day that you got to share an 8 by 11 foot cubicle with someone in prison who was well-known throughout the media. The only famous guys I ever met in the system was my homie, Southwest T (from BMF – Black Mafia Family) and that judge from the other Netflix series, Kidz for Kash.

Me and Billy had a lot in common even though we both came from two different worlds. While he grew up in private schools, building computers, I was outside running around the streets of Chicago within Hip Hop culture. 

I thought it would be cool to breakdown here the similarities and differences we had:

—————-

– Billy's story started from his fascination with computers at an early age, creating several internet companies while only in his teens.

– I started deejaying in my teens and opened my first business at an early age also.

– We both became fascinated with the music industry, which influenced us to open companies:

– Him with his artist booking app, FYRE and me with my Hip Hop Shop, THE BASSMENT

– FYRE was an app that allowed promoters to book artists for events and skip the bs that came from booking talent.

– THE BASSMENT was a Hip Hop shop with 3 locations promoting Hip Hop culture, selling music, clothing and more…

———————

That was the quick summary of our humble beginnings, but next is the downward spiral that led to our demise:

While Fyre's momentum kept building, Billy decided to throw a fest to promote the app, wanting it to become "The Festival of all Festivals." Since Billy loved the Bahamas, he decided to throw it at the famous Norman's Key Island.

He picked a date and started booking nothing but the best artists from all over the world (Google FYRE FEST LINE UP). It would also align itself with major festivals by booking the biggest EDM DJs; think festivals like COCHELLA, LOLLAPALOOZA, ULTRA and EDC.

The problem was that he wasn't prepared for the challenges faced within the island that had very little infrastructure. He actually thought he could pull it off without any experience in the festival game. His four month timeline was unrealistic and couldn't be possible with even the most experienced festival organizer.

On my end, my third location was comprised of me, a 24 year old kid purchasing a huge commercial property that I had no business buying. I also had no experience and was about to enter the world of real estate and the construction industry without knowing anything about either. The property was old and needed tons of repairs.  Like Billy, I thought I could solve every problem with money.

I bit more than I could chew and it was all financed on credit, thanks to our friends at Lehman Brothers.  Being almost a million dollars in debt, placed an enormous burden on me. This was all happening during the 2008 Recession and there I was, trying to figure it all out on my own.

Back on the island, Billy also kept running into setbacks, not realizing he also bit more than he could chew. He desperately did anything he could to keep things going using the famous show business mantra, "THE SHOW MUST GO ON!"

His situation dealt with millions, mine was peanuts compared to his yet I still ended up getting double the time he did! These disproportionate sentences provide but a glimpse of the systemic issues that exist within the legal system, where it's not uncommon for white collar defendants to receive a lesser "punishment" than their drug defendant counterparts. Billy wasn't blind to this fact.  He knew it and he'd shake his head about how unfair the system was, but he also knew he couldn't do anything about it. 

In the end, we both made mistakes and broke the law because of our ambitious and hard-headed approach.  We both believed we were capable of pulling the whole thing off. 

Billy lied to investors to keep the festival going, and was charged with wire fraud.

I sold drugs to keep my business going, and was charged with conspiracy.

Does this make us bad people?

It makes us human. We made mistakes and are paying our debt to society here in Federal Prison…

———————–

Four years later, we've both had time to think and have realized what we did wrong. I didn't know Billy before this, but I truly believe he has become a better person from this. He tells me about his many plans for the future to give back and help people as well as telling me "prison was the best thing that happened" to him.

Of course not everything was always rosy between me and my Caucasian friend here. We were in fact still different and would get into heated arguments about life and political opinions. Sometimes his view of the world was so unreal I couldn't understand how smart people like him lived in such a bubble. 

It was a great learning experience and helped me understand how the wealthy 1% actually think and view society. He also learned from me about how disadvantaged communities lacked the resources that came to him naturally and of the many challenges that children of poor immigrants experience. Even though we disagreed on a few things, we never crossed the line and respected each other's views.

Regardless, I'm going to miss my friend, who was just transferred last week to another institution. He was the only inmate with a "Diva Kit" consisting of eye covers, earplugs, and satin sheets. 

We will stay in contact and plan on doing some great things together once we get out of here…

Good luck on your journey Billy! It's been real…

And like we always used to say when it was just me and you to talk to one another: 

"We gotta always look forward and never look back!"

I love you kid and I will see you on the other side my man…

One Love

Your Fake Best Friend,

"Bazz"

Anwar Shahbaz-Lopez

FCI Milan [2022]

WWW.STREETDREAMSCHICAGO.ORG

PS When they make your official biopic, make sure they pick someone handsome to play your celly!