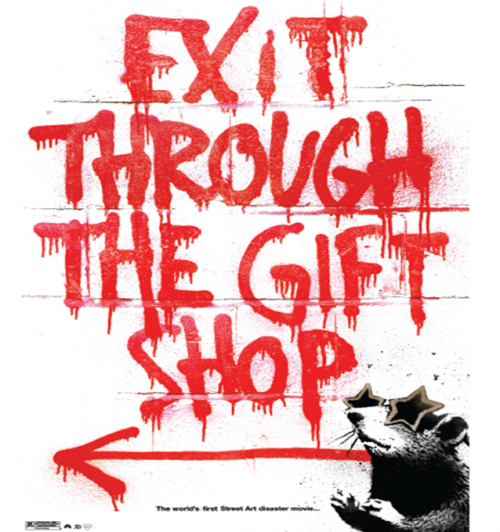 I'm not big on going to the movies (unless Bangs calls.  Pause), but this flick is right up my alley, and I think it would resonate well with the FSD readers as well.  Banksy is incredibly dope and I've followed his work for quite some time.  Here's some background for those in the dark:
Exit Through the Gift Shop is a documentary about how an eccentric Los Angeles based French shop keeper turned documentary maker attempted to locate and befriend the renowned British graffiti artist, Banksy, while in the US, only to have the artist turn the camera back on its owner with spectacular results. This is the first feature film by Banksy who has previously resisted all attempts to be captured on film to avoid prosecution.

The film contains rare and exclusive footage of Banksy, Shepard Fairey, Invader and many of the world's most infamous graffiti artists at work, on walls and in interview. It provides an incredible insight into Banksy's world as he plans and executes one of his most audacious stunts at Disneyland. Exit Through The Gift Shop also goes behind the scenes of his hugely popular LA show – Barely Legal.
I've got 20 super exclusive tix to this private screening to giveaway to the FSD readers.  The Chicago Premiere is next Wednesday (April 21st) at the Museum of Contemporary Art.
In order to win all you have to do is send me an email with the subject Exit Through The Gift Shop and name your all time favorite graffiti artist and the city where they are from.  That's it. 
Hit the jump for the extended trailer.