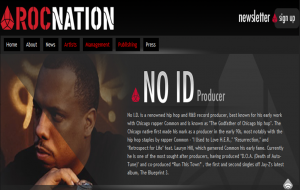 I've known about this for quite some time, but this is the first I've seen it live and online.  It appears superproducer No ID has joined the stable at Roc Nation, who are now managing him as a producer.  It's under the "Management" category on the newly-launched Roc Nation site.    Maybe they can also manage him as an artist and talk him into releasing another album.  Calling Dug Inf…
They also have some excellent tidbits as well as his discography on their site, which is worth checking out.
No I.D. is a renowned hip hop and R&B record producer, best known for his early work with Chicago rapper Common and is known as "The Godfather of Chicago hip hop". The Chicago native first made his mark as a producer in the early 90s, most notably with the hip hop staples by rapper Common – "I Used to Love H.E.R.," "Resurrection," and "Retrospect for Life" feat. Lauryn Hill, which garnered Common his early fame. Currently he is one of the most sought after producers, having produced "D.O.A. (Death of Auto-Tune)" and co-produced "Run This Town" , the first and second singles off Jay-Z's latest album, The Blueprint 3.
Shouts to Nello