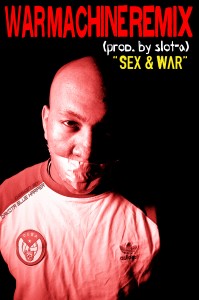 Off Slot's upcoming project War Machine.
Slot has a bunch of stuff on deck, including landing the theme song on E's new program Kiss & Tell.  You can read about it all below the cut.
Slot-A feat. Edwin Starr – Jackson 5
Today I bring you new music from Chicago producer Slot-A, who just landed a placement on the E! Channel for the theme song to the new show, "Kiss & Tell" that just premiered this passing Wednesday. Also Today, 3 songs ("We Got Em", "Mr. Robotic", "Hit The Dancefloor") by Mr. Robotic (Bullet), Produced by Slot-a will be on MTV's show, "Taking The Stage." As you can see Slot-A is making huge moves and will be having a very successful 2010. Being known as the producer behind hits and mixtapes for artists such as Add-2, Amanda Diva, and Gerald Walker comes with the demand for new material. Now Slot-A is ready to take the game by storm. Slot is currently working on a huge beat/Instrumental mixtape that is slated to be released in late June/early July. Leading up until the release of his "War Machine" project, Slot-A will be dropping mini mixes of beats and instrumentals to hold the listeners down. Last but not least if you're in the chicago area, make sure to come by Tini Martini (Thursday @ 10pm), Slot-A Will be showcasing his production along side Chicago's Redbull Champ, J-Rell, and Maja 7th with a special performance by Add-2.