Last night, Com Sense was back in his hometown of Chicago to premiere his upcoming flick with Queen Latifah, Just Wright.  This is Common's first starring role and jump into the romantic comedy field. 
Prior to showtime, Lonnie Lynn, alongside Chicago-baller Bobby Simmons, addressed the crowd of family, friends and press and discussed the importance of this movie and the roles within it. 
Common is now a full-fledged movie star, which is crazy yet amazing to see.  He's come along was since he was that "boney homie from Stony".  Props to him and his ability to stay relevant almost 20+ years in the game. 
After the premiere, Common hosted a private party at Sunda to celebrate the wrap and chat with guests and family.  There was a lot of love in the room and Com definitely enjoyed his moment.  Catch the movie when it hits theaters.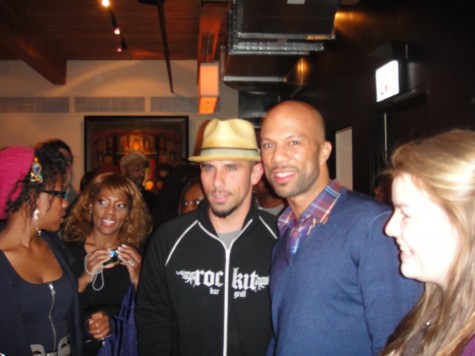 Common with Sunda-owner Billy Dec