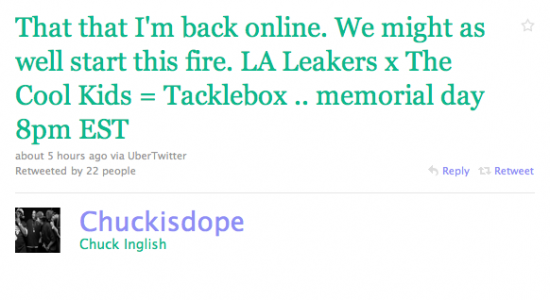 Chuck and Mikey have plenty of projects (and side projects) in the works, including a new mixtape entitled Tacklebox, assembled by the LA Leakers.  As you can see from the tweet above, the mixtape drops on Memorial Day (that's next Monday for you dumb dumbs) at 8pm EST.  No, I don't know the significance of the time, but I do know what we can expect from Tacklebox.
Per the Kids, Tacklebox will feature some "super new shit" as well as leftovers from the When Fish Ride Bicycles sessions, never-before-heard remixes and freestyles from both Chuck & Mike.  Their affiliated artists on Cake will also make appearances.
I was assured that this will be the last mixtape from The Cool Kids (before their album drops), as their whole label debacle will hopefully be coming to an end soon.   #LETTHEKIDSGO
Look for leaks starting any day now.