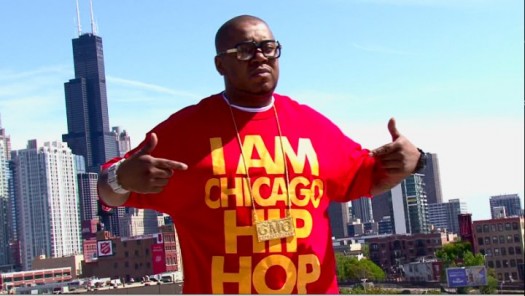 Tuesday night, I dropped by Craig Bauer's new Hinge Studios for a private preview of Twista's eighth solo album, The Perfect Storm, courtesy of Team Twista. They previewed 16 tracks which are scheduled to make the album (all 16 will likely make the final cut, I'm told), but as the case with any artist, they are always "still recording".
Produced in large by long-time collaborator and accomplice, The Legendary Traxster, Twista's upcoming opus gives diehard T fans what they want – the big singles, the Westside Chicago anthems, the slow jams, well picked beats and great collaborations.  Traxster, No ID, Cuzzo, Xcel, Yo Gotti, Raekwon, Waka Flocka, Bobby Valentino, Lloyd and others show up to lend a helping hand.  The Perfect Storm is currently slated for an early-Fall release on GMG/EMI. 
I'll be dropping three song previews once a week for the next few weeks, so keep checking back for my weekly drop.  Weirdly enough, during our listening session, a generator or fuse (or something – like I know!) blew and we had to evacuate the building.  Police and firetrucks were called.  A coincidence?
Let's Make A Movie
Produced by The Legendary Traxster, Featuring T-Pain
The BIG, big single. The one they're going to put the house behind, I'd imagine. A very polished and smooth Trax and Twista collabo, with T-Pain sounding like the old T-Pain – the Rapper Turnt Singa T-Pain. Expect to hear this one all over the radio once released. With songs like this who needs a major label?
The Heat
Produced by No ID & The Legendary Traxster, Featuring Raekwon
Immediately after hearing this I tweeted and exclaimed that this record "blew my mind", and that's the 100% truth. Traxster and No ID on the same record for the first time (it's been a long time coming despite their website launch two years ago). I really don't know how to explain the beat, other than it being a hard-nosed Chicago record with a Wu-Tang twist to it. There's a wicked sample on the hook and a menacing Raekwon comes in with the third verse and absolutely shuts it down. Twista brings nothing but the heat on this track. I had to ask Rawle & Rohit play it again for me before leaving.
Call The Police
Produced by The Legendary Traxster, Featuring Ray J
One thing that's dope about this project is that Twista is experimenting with new flows (not just your traditional rapid fire delivery) and Traxster is experimenting with new sounds. For example, "Call The Police" doesn't sound like your typical Traxster production and if I wasn't privy to that info, I may have thought it was done by someone else. Twista also shows off some slower flows and different patterns here – a nice change of pace.

This was also a standout track for me and could see it having single potential.