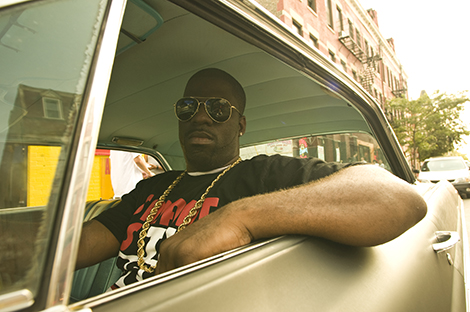 Many moons ago you may remember Rhymefest's iPod was stolen by a shady character who called himself "Prometheus", who threatened to leak El Che unless J Records and 'Fest took action and actually released the album.  Hard to believe that was already two years ago.  Well, the good news is that El Che has finally been released (pick it up!), but the bad news (at least to me) is that one of my favorite songs that was intended for the album never made the cut.  Enter "Classics" (produced by Hit Boy), which was featured on an early version of El Che that I heard two years ago, right around the time of "Prometheus".
I'm not certain if it was a sample issue, a Mario/J Records clearance issue, or just the fact that 'Fest didn't like the record anymore; but I thought this ode to hip-hop was a fly, fun record.  Maybe you agree, maybe you don't.  I don't care either way.  I asked 'Fest about it today via the Twitter, and he gave me the go ahead to leak it.  Matter of fact, I have a whole bunch of dope shit that didn't make El Che that I hope sees the light of day at some point.  My only question is, where are thou Prometheus?
In other Che news, the album is currently #4 and #9 on the iTunes hip-hop chart.  Help it get to number one.  
[wpaudio url="http://www.box.net/shared/static/n1aby37hb9.mp3″ text="Rhymefest feat. Mario – Classics" dl="http://www.box.net/shared/n1aby37hb9″]
Previously: Rhymefest – "T.M.S." [Video] I Rhymefest feat. Phonte – Say Whassup [Video] I Rhymefest – El Che Production Credits + Album Artwork/Packaging I Kanye West & Rhymefest in Kanye's Studio In New Jersey Circa  2002 [Unreleased Video]