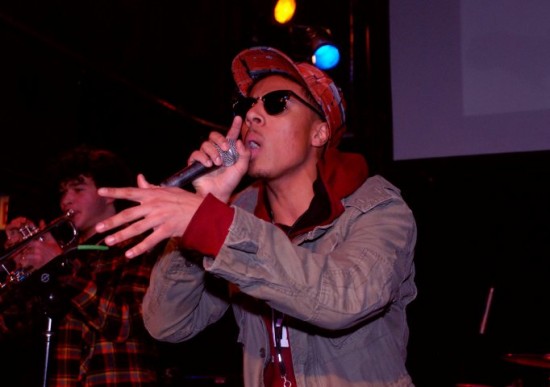 Buzzing Chicago emcee Vic Mensa called into "Chicken and Waffles" hosted by myself and Q on Radio DePaul last week to discuss his recently released Straight Up EP and other projects he is working.
More importantly, we wanted to give y'all a quick update on Vic Mensa's health. Over the weekend Vic was "shocked by over 1600 watts of electricity which shot through his left forearm muscle Saturday night when he was attempting a climb and touched an exposed electrical transformer." As if that wasn't bad enough, Vic then fell 30 feet to the ground. Good news, Vic spent a few nights in the hospital (and posted up a photo via Twitter) and was back in the studio recording last night. Talk about a fucking story! Thanks to Vic's manager Demo for filling us in.
Vic, we are glad you're still with us and in one piece. Stay up homie!
In other news, tonight's guests on "Chicken and Waffles" include the Stay Humble Entertainment family. We will have interviews with YP, Onis, Bighomie DOE and Griffen. Tune in from 10PM-12AM on Radio DePaul.
Vic Mensa Interview on Radio DePaul
Category: Chicago
DJ & General Manager @RadioDePaulDJs SUNDAYS 8-10PM + FRI 12-3PM\\ I post @FakeShoreDrive\\ Find me wearing @ARTMCollection\\ I manage @boogdadonUMA // I run @CrowdNoize