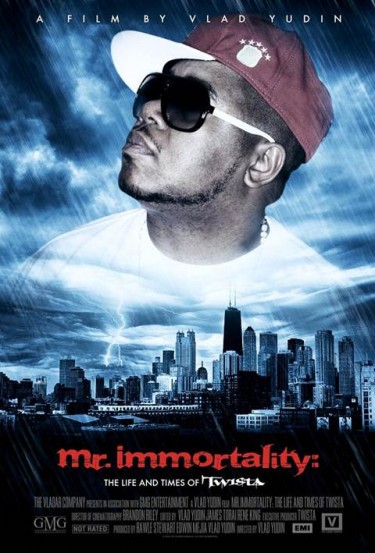 Twista's long awaited documentary Mr. Immortality: The Life and Times Twista, will finally see release on December 7th, 2010 – just in time for the Holiday's.
Vlad Yudin of The Vladar Company will tell a story of Twista's upbringing in Chicago and the city's impact on his development as an artist and his inspirations in life. The documentary will also explore the topics of current day Chicago and its population; outline the cultural importance, the history of its gun violence and its impact on the residents and especially kids.

The biopic which checks in at over 90 minutes, will have celebrity guest appearances from Ne-Yo, The Dream, Jeremih, Scott Storch and more — and it will outline Twista's accomplishments, his importance and influence in Hip- Hop and music overall. It will examine his matchless signature flow patterns and analyze his famous rhymes that landed him in the Guinness Book of World Records in 1992 as the world's fastest MC, spitting 598 syllables in one minute.
I've heard the film is super official and hopefully I'll get a sneak peak in the near future.   Also, shouts to Brandon "N2ition" Riley who is listed on the credits as the "Director of Cinematography".  Salute.
Hit the jump for the full press release.
Twista's upcoming movie "Mr. Immortality: The Life and Times Twista" directed by Vlad Yudin is being released through EMI Label on December 7, 2010 – just in time for the special holiday season.
This forthcoming film documents the gripping story of the legendary emcee from Chicago – – who is also gearing up for the November 9th release of his long awaited and highly anticipated new album "The Perfect Storm" on EMI/Capitol Records.

Vlad Yudin of The Vladar Company will tell a story of Twista's upbringing in Chicago and the city's impact on his development as an artist and his inspirations in life. The documentary will also explore the topics of current day Chicago and its population; outline the cultural importance, the history of its gun violence and its impact on the residents and especially kids.

The biopic which checks in at over 90 minutes, will have celebrity guest appearances from Ne-Yo, The Dream, Jeremih, Scott Storch and more — and it will outline Twista's accomplishments, his importance and influence in Hip- Hop and music overall. It will examine his matchless signature flow patterns and analyze his famous rhymes that landed him in the Guinness Book of World Records in 1992 as the world's fastest MC, spitting 598 syllables in one minute.

Twista will get a chance to express his take on his longevity in the industry and explain what makes him stand out and grab the attention of Hip-Hop's premier artists and producers. The film will highlight the course of his professional career, and center around the many different artists Twista has worked with, ranging from Akon to Jay-Z to Pharell to Kanye West, etc.

This film will reveal Twista's personal side for the first time on camera. The audience will get a chance to discover the side of the Twista that they've never seen before. The film will attempt to explore a variety of topics dealing with Twista's personal life, including his family, home, close friendships and of course his life goals.

In the end, the ultimate goal of the film will be – to reveal the story of Twista and Chicago's influence. For Twista's fans, it will be a testament of the artist's importance and current look at the life of a living legend