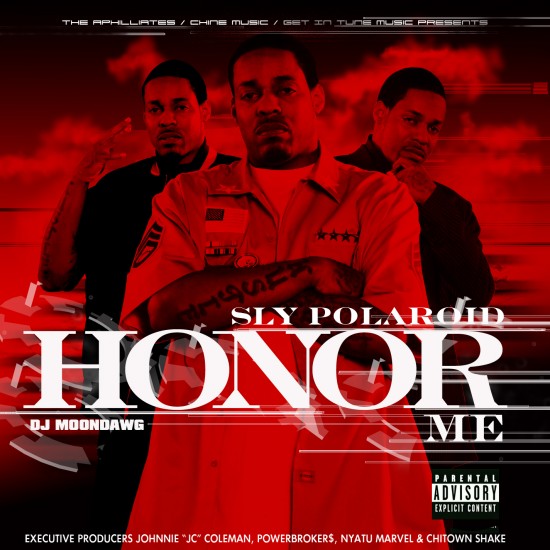 Hosted & Mixed by DJ MoonDawg
The Honorable Sly Polaroid is back after a self-imposed exile to give the fans, readers, listeners and non-believers what they've been waiting on.  Nah, this ain't no mixtape, this is a full blown street album.  No industry beats, no nonsense, all new and original material.  You've gotta honor that.
The Goon Squad/N.W.O. representer is out to prove why he's one of the best in the business, and is picking up where his former partner in crime, Bump J, left off.  Honor Me features contributions from Twista, Bump J, Mikkey Halsted, Count, Brainz Hussla, Kobe, Bo Deal, King The Hood Savior, J. Hollins and his N.W.O. crew.  Production is handled by Emmaculate, Boogz, N.O. Joe and a few others.
If you've never checked out Sly's work, this is the place and now is the time.  Hit the jump for the tracklist, press release and DL link.
Sly Polaroid x DJ MoonDawg – Honor Me
Sly Polaroid is back and better than ever! Honor Me is so much more than just the title of Sly Polaroid's new Street Album/Mixtape. It's a statement, an entitlement, a show of respect that very few hustlers and gangsta's, much less rappers in this town have earned the right to demand. Standing 6' 6" tall, Sly Polaroid is literally a Chicago street, basketball and rap legend, who alongside Bump J led the infamous Goon Squad, and ruled Chicago's rap scene with an iron fist. Sly just came out from under a 25 to life sentence, set his sights on taking over the streets, selected some insane production and teamed up with The Aphilliates/107.5 WGCI's DJ Moondawg to compose the best project of his career. True to Sly Polaroid's real life experiences, the foundation of the project is full of certified street bangers, but this time, true to his love for real music, he managed to bare his soul and add some traditional Hip-Hop elements into the mix with Honor Me. The Emmaculate produced lead single "The Bad Guy," whose movie excerpt sample, "The Bad Guy, The, The, The Bad Guy…" from Brian De Palma and Oliver Stone's Scarface and infectious drums, combined with the sad state of the rap game, reawakened the rap demon in Sly Polaroid.

Back in 2003, Chicago Rapper Sly Polaroid, Bump J and their crew The Goon Squad, took over the streets of Chicago in a way not seen since the days of Larry Hoover and Jeff Forte. The legend of Goon Squad terrorizing the city, robbing rappers and drug dealers combined with a series of mixtapes created a big enough buzz to land Bump J a $1 million deal with Atlantic Records in 2004. The year 2005 was like yin and yang for Sly Polaroid, starting out enjoying Bump J's success with offers on the table from L.A. Reid, Jay-Z and a host of others…cut from a different cloth, Sly Polaroid passed on those deals and held out to allow his brother Bump J to use his deal with Atlantic to fully establish the Goon Squad brand name and up the ante…and ending in a 10 year sentence in an Indiana State Penitentiary. With the help of some great, and I mean great lawyers, Sly Polaroid was released in 2008. In life, and in the rap game, timing is everything, and right now, Sly Polaroid is the right artist, at the right time from the right place.