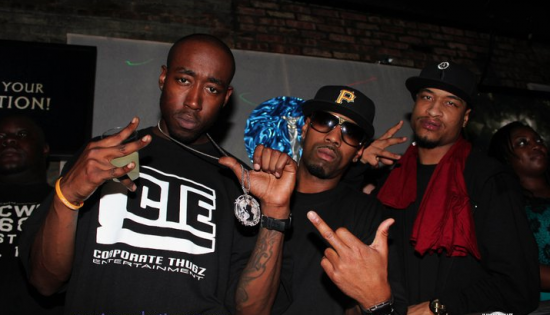 Life can change a lot over a year and a half. On a cold December night in 2009, I met up with Freddie Gibbs to hit Reggie's Rock Club for a Bun B & Cool Kids holiday concert. Upon entering the venue, I introduced Fred to every rapper, promoter, producer and Chicago industry type in the building. Some gave him the time of day – others didn't. The then-unknown Gibbs watched the show in relative anonymity, with only a few of those in attendance coming up to give him dap. Hard to imagine, right? A few short months later, his entire life would change.
In June of 2011, it would be hard for Gibbs to walk through that same club, let alone stand in the crowd and take in a show. Gibbs is now rocking bigger audiences and selling out larger venues. Those same bouncers who wouldn't let him backstage would now gladly lift up the velvet ropes to usher him in, and those same sleepy head industry types are now begging to be down. Life's a funny thing. Hip-Hop is even funnier.
In the 18 months since that night at Reggie's, Freddie has graced the cover of XXL, dropped a retail album, modeled for LRG and inked a high profile record deal with everyone's favorite snowman, Young Jeezy. So yeah, shit done changed. On the eve of his 29th birthday, I caught up with Gangsta Gibbs, who was in Hawaii celebrating the occasion, and we discussed his deal with Jeezy and his upcoming mixtape Cold Day In Hell.
Cold Day In Hell is supposed to drop on your birthday, which is tomorrow. Obviously that's no longer happening, so can you tell us what you've been up to and the reasoning behind the delay?
I've been good man, you know. It's been cool fuckin' with Jeezy and being able to do what I wanna do. Because I see a lot of these guys who sign up under other rappers and they don't have any freedom. They can't do what they wanna do, and I think my situation allows me to do that. Because shit, If I don't wanna release my mixtape on a certain date; if I feel like I wanna take a little more time to add more shit, I can do that. Everything that I'm doing is a calculated decision. If I feel like I need to make it better then I'm gonna make it better. The shit might be great to other people's standards, but if I don't think it's ready, it ain't comin' out. And I don't mind dissin' anyone either, so you know I had to make some adjustments on that end [Laughs].
Is this a CTE and Jeezy-sponsored project? Or are you just dropping it on your own as a free project?
Yeah it's gonna be free – basically a free album. Everything I've dropped up until this point has been A1 quality shit, so I'm going to keep it that way. Every project I've done sounds like an album. I don't go the traditional mixtape route, I don't just rap on a bunch of industry beats. Sometimes I might have a DJ and sometimes I won't. For this one, I don't think I will – this is gonna be like an official retail album. It's just a mixtape 'cause it's not on a major and has no major backing. If you think about it, all of these motherfuckers do mixtape nowadays – even artists on the majors. Like Beyonce leaked her album last week, but all that shit was a glorified mixtape. It's gonna be different once it hits shelves – then they'll come with the real album.
I'm just keeping it coming with the quality material – whether it's free or not. Ain't none of these motherfucking rappers selling no units but Eminem. He's the only rapper doing numbers like it's still the 90s. So unless you're him or Lady Gaga, you can't really brag on record sales. I'm living in an era where you've gotta put this music out to the masses for free, but I'm making sure it's the highest quality material. And I'm gonna keep putting out the stuff that hurts the most feelings [Laughs].
Can you tell us a bit about the mixtape? What can we expect as far as features and production?
So far we've got like 16 or 17 tracks. I've got Daz Dillinger on that thang, I've got Juicy J on there. Mainly people I came up listening to. I'm fuckin' with E-40. I've got a joint with Sly Polaroid. Actually, that's one of the craziest joints – it's Sly Polaroid and Freeway. That's probably gonna be the hardest record on the album – it's a real heartfelt record.
Wow, Sly P & Freeway? That's quite unexpected.
Yep – "Anything to Survive." Me, Sly and Freeway. And that's never been done, you know what I mean? I think that shit's gonna be monumental. Sly killed it, Freeway killed it. It's one of those records that's really gonna hit. My boy Adrian did the hook. K-Salaam and Beatnik did the track, and they're some of the most talented and underrated producers in the game right now. Special shout out to them. Those motherfuckers have some heat and they've been down for me from the get go. More motherfuckers need to check for them and what they're doing in the game. They actually did two records on the mixtape.
Who else is on there?
J.U.S.T.I.C.E. League fucked with me on it. SMKA did the track with Juicy J. Big K.R.I.T. put his hands in the project – he fucks with a nigga. Alley Boy gonna jump on it. And of course the CTE Family – they're all on board. Me and Jeezy got a big record on there that's gonna shake up a lot of motherfuckers. I've also got a joint on there called "187 Proof" that's gonna really hurt a lot of feelings…
Is that the joint you were referring to when you said "a few more people gotta get dissed?"
Oh yeah, oh yeah. "187 Proof." I'm just telling all these motherfuckers that I'm hard to kill out here. Ain't no motherfucker invincible, but what I'm saying is that if you kill me today and I die right now, I'm gonna live on forever. With that "187 Proof," I feel like no matter what, you can't kill me because what I'm doing is that powerful, that motherfuckers are gonna go back and see what I'm doing. I ain't at the point where I wanna be yet, but when I get there, it's gonna be hell on these niggas. It's going down. And I've got a few other joints where I'm gonna be addressing people. Certain shit just ain't gonna slide and certain motherfuckers out here in the rap game gotta be punished. We gonna let them have it. That's what the people wanna see, right? They wanna see what CTE is gonna do. They wanna see our comeback on the game and we're ready to go behind that.
So it's CTE versus the industry right now?
We ready. We've got the TM103 crackin right now. The Real is Back mixtape was some of Jeezy's best work in a while. It's a family atmosphere over here at CTE and it's more than just music. We're over getting in it, and everyone is pulling their own weight. It's all love – shout out to CTE. We're all doing our thing right now.
One thing I've noticed is that you don't seem to travel as part of Jeezy's entourage. I know he's had a few high profile video shoots recently that you've been noticeably absent from. This is a different relationship than a lot of other rappers who are required to be by their bosses side at all times.
This ain't no cosmetic shit. This ain't no phony relationship. Me and Jeezy politic every week, you know. I politic with all the homies every week. Like I said, everybody at the label right now got their own agendas. Slick got his own agenda, I got my own agenda. What matters the most to all of us is that TM103 cracks, because that's gonna push all of us forward and over the top. That 103 album is our main focus right now. Shit, we've gotta protect our quarterback. He's gonna do what he's gotta do to make sure the inner workings go smooth and it can't just be one person doing his thang. Jeezy can be Jordan, but we've gotta be the role players and hold our weight. I think we're off to a good start, and I don't think the game has seen competition like this before. Me and Jeezy? You're looking at two guys who've both created their own lanes in the game. Ain't no one ever came out that sounded like Jeezy! He had a distinct voice and he said some shit that was relevant and truthful to a lot of guys in the streets. A lot of motherfuckers out here love Jeezy. And I don't see nobody out here doing what I'm doing. I haven't seen anybody rap the way I rap over the past ten years, so you've got two guys who have carved their own lanes, except I'm just starting mine now. So I really don't think I could've found a better teacher in the game.
So after TM103 will your CTE debut drop? Any idea on how that's going to be put out? I know CTE was through Def Jam at one time, but I wasn't sure about your deal?
See that's the beauty of it. That's the beauty of being on CTE because I get to make that decision. If I wanna mess with this label or that label I can do that because I have a strong support system. Between my niggas in Gary, Chicago and CTE, I'm got my people behind me. That's all that really matters to me at the end of the day, because all I'm trying to do is put out quality material. Deciding on what label to put it out on is the least of my worries because at the end of the day it comes down to who's cutting the biggest check [laughs]. We're just gonna continue to do what we do: hitting the road, grinding it out, getting money. I'm not trippin at all man, I'm chilling in Hawaii [laughs]. I ain't rich, but I ain't hurtin' for nothin' [Laughs].
I'm just grinding to a point where I can put my family and those around me on and CTE gives me those kind of resources. Just because he puts his album out through Def Jam don't mean I have to. Whatever makes the most sense we'll go with.
Will you be touring with Jeezy this summer?
Most definitely. He's on the road right now, matter of fact he's gonna be in Chicago next month.
So you'll be here for that?
You already know. Anytime he comes back to my home I'm coming back for it. Like when I brought him out at Bottom Lounge – that shit was phenomenal. I think people from the area are always going to remember that show, and that's what you want your local artists to do at home. You always wanna give your support system the best show and surprises they can get. Don't get it twisted, I give every show, in every city 200%, but it's something special when you're home in Gary or Chicago; something else comes out of you. Like when I just did that shit with Curren$y when I came to the Metro. That was the first time we ever performed that song together live, and it was monumental. "Scottie Pippen" is a big record. So when Jeezy is there next month you're definitely gonna see a Freddie Gibbs performance.
Right. Because a lot of artists from around here don't come home to make big announcements or debut records, but you definitely changed that when you announced the CTE signing here.
I'm just happy to have this support system back home behind me. It feels good, so it's only right that I show love back. The radio is eventually going to have to get behind me at some point. I didn't just start doing this, I've been making noise in this area for 7 years, and I finally feel like I'm starting to get that acclaim that I deserved. I just hooked up with DJ Pharris and he's supporting. My nigga YP is doing his shit, that's my homeboy – my close homeboy. We're about to do so me new records together. More than ever I'm seeing the area come together and do more shit, you know what I'm saying? Because there was always some beef and tension between Gary and Chicago, but we're taking the necessary steps to break that bullshit down.
It's about time.
As a region together? We can't be stopped. We've got so much talent in this region: Sly Polaroid, YP, L.E.P. doin' they thing. A lot of people can't really compete with what we got going on in our area and I'm just blessed to be a part of it. Just imagine what it's gonna look like in five years.