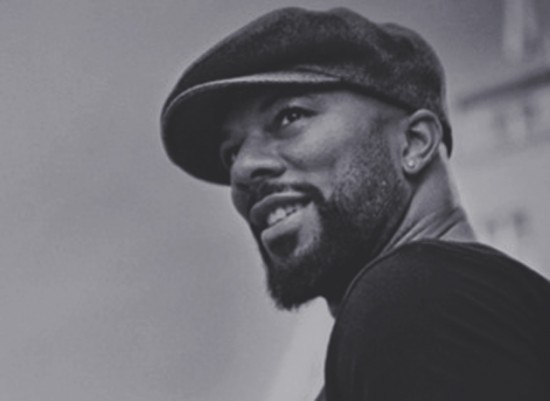 Words by FSD contributor Alan (of Hip-Hop Snobs) (@SnobWorthy) 
Let's go way back to 1991. The average cost of gas in that particular year was $1.95 and Michael Jordan and the Bulls were on their way to winning their first NBA championship. Before there was such a thing as the XXL Freshmen List or being labeled as (2)Dope To Sleep On by 2dopeboyz there was the Unsigned Hype column in The Source Magazine and a young Chicago MC known as Common Sense at the time was featured in the highly regarded column (B.I.G. and Eminem were subsequently featured in the column as well). Looking back it's safe to say Common who dropped the Sense from his name has lived up to the hype.
Common, a rapper who is more in the mold of Chuck D than Lil Wayne is a rare breed in today's hip hop industry. He's been around since the early 90's and he's still regarded as one of hip hop's best emcees. Sure there's rappers like Talib Kweli, Mos Def, and a few others with long successful careers still making quality music but they are the exception not the norm. I won't even mention Jay-Z or Nas because they're legends in any era. More often a mainstream rapper shelf life is short, they have their five years before their sound and lyrical narratives become stale. Just take a look at 50 Cent's career or look at Nelly's career. He was hot, now he's getting sued by American Express. Wait a minute, he's in the studio working with Dre? (Detox is never coming out or at least live up to expectations)
Anyways the point is that hip hop music is a young man's game. Take a look at any blog, the billboard charts, listen to the radio and you'll hear hip hop's youthful sounds from rappers that were brought up with B.I.G., Tupac, and influenced from the late 90's shiny suit era instead of the sounds from hip hop's rising era of late 80's and early 90's of Rakim and Public Enemy. Common is a survivor from a time that has long pass by. It's a period of hip hop that I personally love but not lost in. Common has survived through many changes within the sound and culture of hip hop.
Throughout his music career he's released many classic songs and highly praised albums. His longevity and relevance is due to the overall quality of his music and his lyrical prowess on the mic. To hear Common on the mic is the equivelant to watching Leo Messi (Yes I'm comparing him to a soccer player in terms of natural ability in their chosen profession. If you don't know about the three time Ballon d'Or winner, just think Derrick Rose but on grass) on the soccer field. There both so natural at what they do, it looks like they're not even trying.
Yes there's been some slip ups. Some critics would argue his albums Electric Circus and Universal Mind Control were a step down from his classic work but I applaud the fact that he's willing to take some musical risks and switch up his sound from time to time. Not a lot of rappers would do that. I remember Kanye making a statement during his VH1 Storytellers performance about rappers third and fourth albums sounding just like their first albums. Common has not fallen victim to that. Granted there's has been a common soulful aesthetic in terms of production to his classic albums such as Resurrection or Be but he has grown on the mic from Can I Borrow A Dollar? to The Dreamer, The Believer. He's not always rapping about the same things from one album to another and it's what he's rapping about lately that has garnered a lot of attention.
You knew it was coming, you didn't think the rap version of Sade was just going to get away with it. It was only a matter of time before someone of note was going to call out Drake out for being who he is, which is soft. Pusha T has been sending shots lately towards Aubrey's direction but it took Common's not so "Sweet" track to finally push Drake into a lyrical beef with a lyrical legend. I happen to like the music of both Common and Drake. You can catch me side stepping to Headlines in the club and listening to I Used To Love H.E.R. on the way to school. Hip hop has expanded enough to allow Drake to be successful and have a lane. His lane has been proven to be successful but his overly emo tracks is too sweet for some in the game. Drake is hip hop but so not hip hop at the same time. If someone who didn't know anything about hip hop came up to you and said play me a album that's hip hop. You're more likely to play Common's latest album than Drake latest album.
Honestly I don't mind this beef between Drake and Common. It's the reaction to the beef that I have a issue with. The reactions could be put into three catogories. Young Drake fans who don't know who Common is or care who he is, Common fans who don't like new hip hop, and possible fans of both that say "why can't they all get along?". First let me address the first catagory of young Drake fans. They always bring up the age gap between the two, as if Common is sitting on his porch and yelling at Drake for playing to close to his lawn. Drake is 25 years old, he's not some young kid who doesn't know any better. This is not Ice-T telling Soulja Boy to eat a d*** and complaining that he killed hip hop. So enough with all the age talk. Drake can only wish for the longevity that Common has in his career and pray he doesn't end up as this generation's Ja Rule.
The second catagory of Common fans who don't like new hip hop. You're as much of the problem as young Drake fans are. It's more of a overall general problem with the direction of hip hop that they have a problem with. They need to know that A Tribe Called Quest is not coming back and appreciate the true artists that are making high quality hip hop music now and the evolving nature of the music. Times change, music changes and hip hop is not excluded from that.
The third category of possible fans of both who say "Why can't they all get along" need to remind themselves of the genre of music that they're listening to. Hip hop started with rap battles on street corners and this is nothing new. Rap battles have always been a part of the genre. As long as it stays on wax then it shouldn't be a issue. So no Toure this is not the silliest rap battle ever. I'll give that honor to Rick Ross and Kreayshawn.
Drake should know better and remember his own words from his own track Successful which are, "Diss me and you'll never hear a reply for it." Take heed of your own advice. Also stop with the occasional goon talk. We all know you're not going to catch any bodies. Now or not ever. So whether this stems from some love triangle between Serena, Drake, and Common is inconsequential. Common has earned the right to call out those that are not living up to the culture because of his status in the game and it's not the first time he's done it either but just don't confuse it with hate or jealousy coming from Chi-town's Nas. To quote his classic song Sixth Sense "If I don't like it, I don't like it, that don't mean that I'm hating, I just want to innovate and stimulate minds, Travel the world and penetrate the times." He's been doing that for a while now. The "sweet" ones might want to catch up to it.