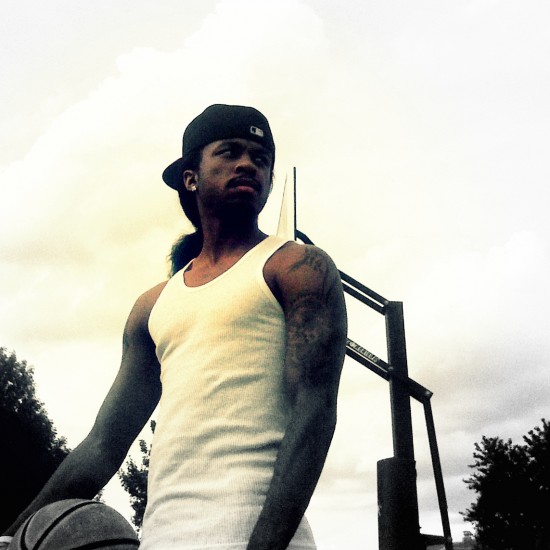 Words by Bradley Troast (@yeldarb367)
August 23, 1987. Margaret Clark is at her home in Harvey, IL preparing to attend Sunday service at Christ Universal Temple. All of a sudden, a pain hits. She is nine months pregnant. She is rushed to Ingalls Memorial Hospital and by 3pm she has given birth to her first child: a boy weighing 7 pounds, 8 ounces and measuring 19 inches long. She names him Jarvis Morrell Clark.
July 14, 2012. The man who stands before me is 5 feet 6 inches tall, 137 pounds. He is the shortest person in the room but his talents demand respect. He was the point guard of the basketball team at Rich South High School. He's now the leader of a music group in the south suburbs of Chicago called The Come Up (TCU).
We're listening to a 13-song playlist I prepared for him to discuss influences. Halfway through the final song ("New God Flow" by Kanye West and Pusha T), he says, "I can relate to [Kanye West]. People overlook my music ability." His reserved demeanor changes and his voice gets stern. "This is my passion! This is my life! This is what I do!" This is ClarkAirLines.
The name Jarvis means prosperity. "People would tell me, 'He's going to be something special one day,' says Mrs. Clark. She has a photo from the delivery room with the phrase "Nothing but good things will happen in your life" written around it.
"I had the parents people dream of having," says ClarkAirLines. "I had the perfect parents." His father, Glenn, is described as hard-working and sweet; his mom as supportive and entrepreneurial – all key characteristics of AirLines as well.
"Do what your heart desires," his mom tells me. "You don't have to have any help. Keep going. Persevere." We just started talking and I already feel like I'm in one of her entrepreneurship classes. (She teaches and does public speaking.) I can feel the energy. She's motivating me to do a good interview, to write a good story.
"I try to incorporate [his attitude] in what I do now," AirLines tells me about his father. "Work hard, play later, that was his motto… He believed in everything I told him I wanted to do… He stressed: 'Don't do what you like, do what you love.'" The adoration appears endless.
In 2007, AirLines and his father planned to turn the basement of their house in Matteson, IL into a music studio. Mr. Clark had already built Jarvis' bedroom down there. Plans were drawn up, but unbeknownst to AirLines, his father was sick. He had colon cancer and in March 2007 he passed away. Jarvis was devastated.
AirLines dropped out of the School of the Art Institute of Chicago, but he kept a commitment to his father. He called up his grandfather and asked for his help in finishing the basement. They decided to turn Jarvis' bedroom into the studio. "My father built this room. My grandfather helped me build this wall," says AirLines as he grabs the wall separating the recording booth from the engineering room.
He starts to reminisce. The inspiration still lives inside him. "[My dad] never looked at directions. I kind of use that with my music… like, when you build something, it says 'do this,' you try to do it, but it's not quite fitting in here right, so you improvise. I kind of do that with my verses: write it down and then end up switching it all up."
[CLICK BELOW FOR NEXT PAGE]