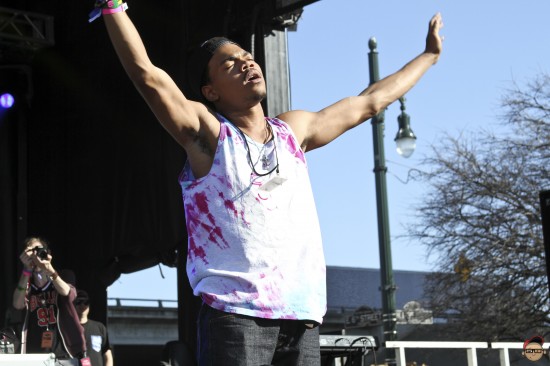 The good news and accolades continue to roll in for Chance The Rapper, as just this morning it was announced that the Acid Rap rapper is set to join Mac Miller on his upcoming 38-City summer tour. The Space Migration Tour kicks off on June 25 in Austin, TX, and Chance will be included on the entire run. Action Bronson, Meek Mill and Earl Sweatshirt will be featured on select dates. And unfortunately, as of now, there is NO Chicago date.
Mac Miller today announced tour dates for his upcoming 38-city North American Summer run of The Space Migration Tour in support of his highly anticipated sophomore album, WATCHING MOVIES WITH THE SOUND OFF, which will be released June 18th on Rostrum Records.  Vince Staples, The Internet and Chance The Rapper will open on all dates, while Meek Mill, EARL Sweatshirt and Action Bronson will support on various legs of the tour.  Mac Miller will also be bringing artists from his own, newly minted record label, REMember Music, on the road including Njomza, Dylan Reynolds, The Come-UP, Hardo, Choo Jackson andPrimavera Vills. The tour kicks off June 25th at Emo's in Austin, TX.  Tickets go on sale beginning May 10th and are available at:http://macmillerofficial.com/tour.
Chicago's own Njomza is also going to be included on select dates.
Hit the jump for dates, venues and cities.
Tue-Jun-25
AUSTIN, TX
EMOS EAST
Vince Staples, The Internet and Chance The Rapper
w/ Njomza
Wed-Jun-26
DALLAS, TX
PALLADIUM
Vince Staples, The Internet and Chance The Rapper
w/ Njomza
Thu-Jun-27
HOUSTON, TX
WAREHOUSE
Vince Staples, The Internet and Chance The Rapper
w/ Njomza
Fri-Jun-28
NEW ORLEANS, LA
HOWLING WOLF
Vince Staples, The Internet and Chance The Rapper
w/ Dylan Reynolds
Sat-Jun-29
MEMPHIS, TN
MINGLEWOOD HALL
Vince Staples, The Internet and Chance The Rapper
w/ Dylan Reynolds
Mon-Jul-01
NASHVILLE, TN
MARATHON MUSIC WORKS
Vince Staples, The Internet and Chance The Rapper
w/ Dylan Reynolds
Tue-Jul-02
ATLANTA, GA
TABERNACLE
Vince Staples, The Internet and Chance The Rapper
w/ The Come-UP, Hardo
Wed-Jul-03
MYRTLE BEACH,SC
HOUSE OF BLUES
Vince Staples, The Internet and Chance The Rapper
w/ The Come-UP
Fri-Jul-05
ST. PETERSBURG, FL
JANNUS LIVE
Vince Staples, The Internet and Chance The Rapper
w/ The Come-UP
Sat-Jul-06
ORLANDO, FL
HARD ROCK LIVE
Vince Staples, The Internet and Chance The Rapper
w/ The Come-UP
Sun-Jul-07
JACKSONVILLE, FL
BREWSTERS MEGAPLEX
Vince Staples, The Internet and Chance The Rapper
w/ Choo Jackson, The Come-UP
Tue-Jul-09
RALEIGH, NC
THE RITZ
Vince Staples, The Internet and Chance The Rapper
w/ Choo Jackson, The Come-UP
Wed-Jul-10
SILVER SPRING,MD
FILLMORE SILVER SPRING
Vince Staples, The Internet and Chance The Rapper
w/ Choo Jackson, The Come-UP
Thu-Jul-11
NEW YORK, NY
HAMMERSTEIN BALLROOM
Vince Staples, The Internet and Chance The Rapper
w/ The Come-UP
Fri-Jul-12
PITTSBURGH, PA
STAGE AE
Vince Staples, The Internet and Chance The Rapper
w/ Primavera Vills, Hardo, The Come-UP
Sat-Jul-13
PHILADELPHIA, PA
FESTIVAL PIER
Vince Staples, The Internet and Chance The Rapper
w/ Meek Mill
Sun-Jul-14
ASBURY PARK, NJ
STONE PONY OUTDOORS
Vince Staples, The Internet and Chance The Rapper
w/ Meek Mill
Tue-Jul-16
STROUDSBURG, PA
SHERMAN THEATER
Vince Staples, The Internet and Chance The Rapper
w/ EARL Sweatshirt
Wed-Jul-17
WALLINGFORD, CT
THE DOME
Vince Staples, The Internet and Chance The Rapper
w/ EARL Sweatshirt
Thu-Jul-18
BOSTON, MA
HOUSE OF BLUES
Vince Staples, The Internet and Chance The Rapper
w/ EARL Sweatshirt
Fri-Jul-19
PROVIDENCE, RI
LUPOS
Vince Staples, The Internet and Chance The Rapper
w/ EARL Sweatshirt
Sat-Jul-20
CLIFTON PARK, NY
UPSTATE CONCERT HALL
Vince Staples, The Internet and Chance The Rapper
Sun-Jul-21
BUFFALO, NY
BUFFALO OUTER HARBOR
Vince Staples, The Internet and Chance The Rapper
w/ EARL Sweatshirt
Tue-Jul-23
DETROIT, MI
FILLMORE DETROIT
Vince Staples, The Internet and Chance The Rapper
w/ EARL Sweatshirt
Wed-Jul-24
CLEVELAND, OH
HOUSE OF BLUES
Vince Staples, The Internet and Chance The Rapper
w/ EARL Sweatshirt
Thu-Jul-25
TOLEDO, OH
HEADLINERS
Vince Staples, The Internet and Chance The Rapper
w/ EARL Sweatshirt
Fri-Jul-26
INDIANAPOLIS, IN
EGYPTIAN
Vince Staples, The Internet and Chance The Rapper
w/ EARL Sweatshirt
Sat-Jul-27
MILWAUKEE, WI
EAGLES BALLROOM
Vince Staples, The Internet and Chance The Rapper
w/ EARL Sweatshirt
Sun-Jul-28
ST. LOUIS, MO
THE PAGEANT
Vince Staples, The Internet and Chance The Rapper
w/ Action Bronson
Tue-Jul-30
DENVER, CO
OGDEN THEATER
Vince Staples, The Internet and Chance The Rapper
w/ Action Bronson
Wed-Jul-31
SALT LAKE CITY, UT
THE COMPLEX
Vince Staples, The Internet and Chance The Rapper
w/ Action Bronson
Fri-Aug-02
RENO, NV
KNITTING FACTORY
Vince Staples and The Internet
w/ Action Bronson
Sun-Aug-04
SAN FRANCISCO, CA
WARFIELD THEATER
Vince Staples, The Internet and Chance The Rapper
w/ Action Bronson
Tue-Aug-06
SANTA ANA, CA
THE OBSERVATORY
Vince Staples, The Internet and Chance The Rapper
w/ Action Bronson
Wed-Aug-07
LOS ANGELES, CA
HOLLYWOOD PALLADIUM
Vince Staples, The Internet and Chance The Rapper
w/ Action Bronson
Thu-Aug-08
LAS VEGAS, NV
HOUSE OF BLUES
Vince Staples, The Internet and Chance The Rapper
w/ Action Bronson
Fri-Aug-09
PHOENIX, AZ
CELEBRITY THEATER
Vince Staples, The Internet and Chance The Rapper
w/ Action Bronson
Sat-Aug-10
SAN DIEGO, CA
SOMA
Vince Staples, The Internet and Chance The Rapper
w/ Action Bronson