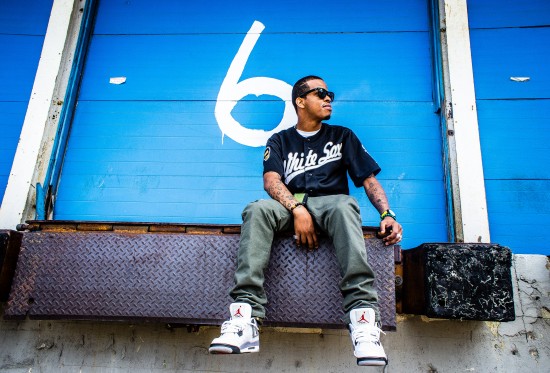 Words by Elyssa Czynski (@czynskers)
"Anything could happen. You could say Vic Spencer is one whopping opportunity."
For Vic Spencer, every new place or venture is a new "landmine of opportunity," and he is just waiting for one to explode. His new project, HaerBrainSchemes Presents: The Rapping Bastard, due out November 29th, is hopefully one of those landmines.
Rapping Bastard is ferocious and full of complicated barplay that might leave virgin ears slack-jawed. Spencer's voice sounds suitable for a cartoon villain and matches the sinister sound. The album is grotesque and aggressive, and Spencer's descriptive rapping is ill, giving listeners insight into his psyche.
Vic Spencer is vicious, even on sonically more relaxed tracks. One of the standout joints on Rapping Bastard is the eight minute-long, "ew"-riddled track  "Bacteria/Fungi/Virus." Spencer reflected upon biology from high school, using it as inspiration for the song."A lot if this is nasty and it describes me as an individual," explained Spencer. The concept for the track was difficult for him to describe to Saba, who produced the track, "I want virus to sound like virus; I want it to sound deadly. I want fungi to sound funky, and I want bacteria to sound like something you can just deal with; it's a beat that you can deal with." As the track flows from one ill (in multiple senses of the word) beat to the next, Spencer snarls.
He worked with a slew of producers for this project. Everyone from Saba to A-Villa to Dr. LaFlow to O'Bonjour to Doc Da Mindbenda — and the list goes on. Even though the roster is mixed and full, Rapping Bastard is cohesive and wicked interesting.
"Sonically, Rapping Bastard is so good. All of the music meshed well, and the tracklisting goes well, it just sounds good," said Spencer, who believes the Rapping Bastard's sound is ahead of the time. He also doesn't sound like he is from Chicago. His style can't be placed geographically, but as he spits references that indicate he hails from the Windy City.
Spencer initially had 18 tracks for the project, and cut it down to 12.  He ultimately concluded that some things are still good, and worth listening to, but weren't authentic to the sound he created for himself. "[The music] is just rare. I don't try do it on purpose either. It's the final work that makes me realize [it]," explains Spencer. He doesn't hear anything similar coming out of Chicago.
Manipulating bars and contorting beats is what Spencer does best. He used the project to challenge himself with sounds he never thought of touching before, "[On] Rapping Bastard I explored sounds, and it took me somewhere I've never been before," explained Spencer. Rapping Bastard was two years in the making. The earliest track, "Sheezy," stands out because of its trap sound, similar to a lot of what is on the radio. Spencer did not like "Sheezy" but kept it because it was a challenge to make that track. "I hate that song. I hate 'Sheezy,'" he says with a laugh, "It's not Vic Spencer, it's not me. But it's me challenging myself. That's why its on the project because it's a challenge to make music and to think outside of a box, and not be put in a box, and prove you're not in a box."
Spencer took a negative and inverted it into a positive, as he tends to, with this joint. "I'm always being put in a box, 'I'm an old dude who can't do this.' So I'm like, 'Man I'm going to prove these guys wrong on their own music.'"
At 32, Spencer is an "Old Fart." But Spencer thinks of being older as a blessing not a curse, "I'm an old man in the game, and it's good that I portray that," explains Spencer who appropriated the "old fart" Twitter diss he received as a new title for himself, "I got that genre. I made it a genre. That's my whole intake on negative stuff that happens. If a negative thing happens, I try to embrace it in my music positively." He remembers when he was younger and thought of other people as old, but now he realizes how maturity comes with age. "I'm more of an old fashioned, face-to-face type of guy so you can get more insight into what's going on. That's how my music is, whatever I'm speaking about, I've got more insight than anything on it," he said. That desire to be in-person, face-to-face, and not hiding behind a computer is old school, but in a good way. It also shows that Spencer is confident and eager to talk about his music.
[Click Below For Next Page]