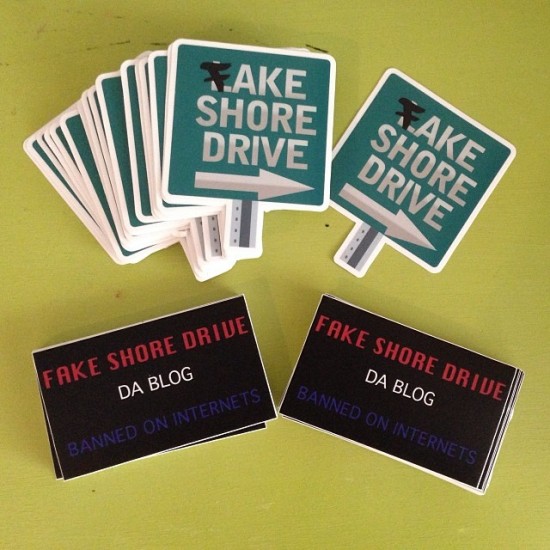 Get your FSD stickers here
The FSD NYE Post is back for year four… We started this tradition three years ago as a way to say thank you to our readers and aspiring artists in the city. The concept is simple: on New Years Eve, we give every Chicago artist and group the opportunity to have their music featured on Fake Shore Drive — in a year end round-up style post.
We announced this yesterday on the site as well as Twitter and Facebook, so if you missed it, you should look in to following both (perks!), and checking the site daily. So study up on out a slew of new talent below. The good news is that a handful of artists we've posted in years past have now entered regular rotation on the site. Happy New Year to everyone out there, and thanks for your continued support of FSD. 2013 has by far been our biggest year yet. Here's to 2014 being bigger and better. Be safe out there tonight, and be sure to #CirocTheNewYear.
DaeDae f/ Dooley "How High"
Pinqy Ring "Little Heart"
Gaggie f/ Mazi Mike & Duwop "Runnin Blocks"
Shy Riot "Pray 4"
The Gossip Structure "Midwest Love"
Drew Yung "Buggin Out"
Kidd Russell "Pulaski Day"
Great Gamboa "52 DAYS 'TIL DOOMSDAY"
Roy Kinsey feat. LPXIV "The Cloud"
Magix King "After Party"
Antthevillain "Pulldova" [Prod. by Chuck Inglish]
Dame Haze "No Time"
Pre Dolla "I'm From Chicago ft. Bump J"
BRUUS "The Trapno Anthem" (Produced by BRUUS)
F. Mills "Winner's Circle"
The Arkutec feat. Tremaine Harris "All I Need"
Wahala Ak ft. LA Van Gogh & The Laureate "Ion Really"
Keen Da Dream "DAT DOE"
Beeware "Bombs and Battleships"
Alex Dangerfield "VSOP"
MEEKO FLY "No Worries"
Ramaj Eroc "#1 (Chicago Bulls Anthem)"
Tizzleman x K-Shawn "OJ" [Prod. By Chase Davis
VILLIAN "MONEY & POWER"
Flow Valentino & Prince Chris "ERF(EverybodyRealFake)"
YUNG TACT "D.O.A. (dead on arrival)"
[Click Below For Next Page]