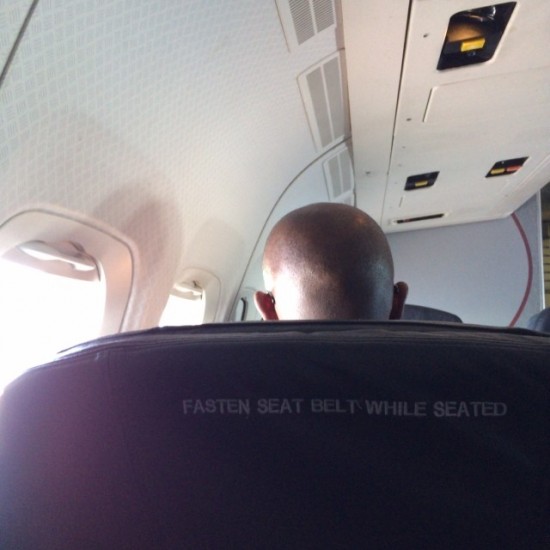 Chance The Rapper had a banner year in 2013, where among other things, he landed on magazine covers at The Source and Complex, and gained new industry friends such as Madonna and the RZA.
So with 2014 now in full swing, many fans and industry insiders pondered what Chance's next move would be. Would he hit the studio to record the follow up to his breakthrough project, Acid Rap, or would he finally ink that lucrative record deal that he's long evaded? Well, as we're already three days into the new year, Chance has taken a totally different approach to his career, as just last night, The Rapper was spotted on a flight to Mexico alongside actor Taye Diggs' bald head.
After the picture above surfaced online, rumors began to swirl about the collaborations that might take place between Chano and the back Taye's dome. Sources on the plane have stated that Chance repeatedly kicked Taye's chair throughout the flight, and that the head and Chance might've exchanged words. Could Chance co-star in the next film starring Taye's head? Only time will tell.
I was able to reach Chance for comment and the emcee stated: "'I've seen every movie the back of his head has starred in, and I instantly recognized him from his work."
This story is developing and we'll provide more information when it becomes available.