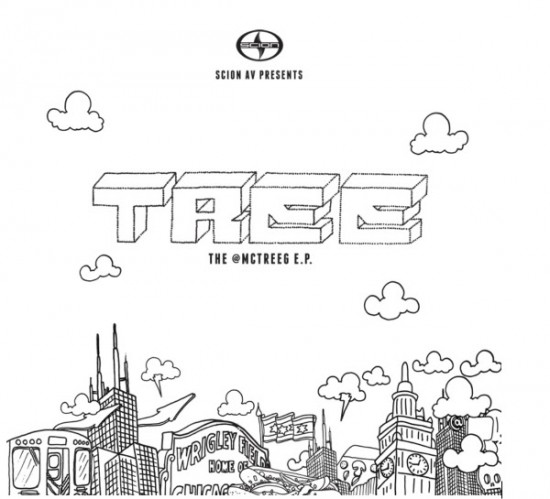 Chicago's Soul Trap Tree is linking wit the audio/visual sector of automotive company Scion, for the release of his new EP, The @MCTreeG EP, which is due out on January 21st. In the past, Scion has collaborated on projects with artists such as Chase N Cashe, Danny Brown and Harry Fraud, so Tree is in good company.
Tree released The Tree EP back in 2011, but rest assured that The @MCTREEG EP has nothing to do with its predecessor. Today, Scion and Tree give us the project's first offering, the slapping "Like Whoa." No Black Rob.
Check out this first leak below, and hit the jump for the official press release from Scion AV. Very much looking forward to this project — this first single is nothing short of amazing.
(Torrance, CA) – Scion Audio Visual today announces the next installment in the Scion AV Presents EP series with Chicago's own MC Tree. Entitled Scion AV Presents: THE @MCTREEG EP will be available as a free download on 1/21. Today the single "Like Whoa" is available as a free MP3 download here. The collaborative project features Lennon of Project Mayhem and Taylor Outlaw. Scion AV and Tree will also be making a video for the track "Like Whoa" due out later in January. The @MCTREEG EP marks the fifth release from Scion AV Presents EP Series which includes Chase N. Cashe's "Ca$he Rules", Harry Fraud's High Tide, ILL Clinton's The ILL Experiment, & Danny Brown & Co.'s Bruiser Brigade. "