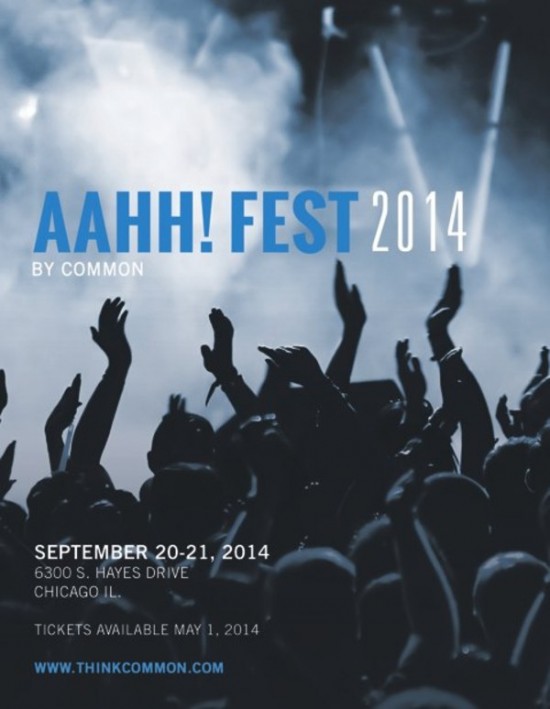 Common's Common Ground Foundation and Kanye West's Donda's House Inc. will be teaming up with the Chicago Urban League for a new youth jobs initiative and a new music festival, AAHH! Fest.
Common made the announcement during a press conference yesterday at the Museum of Contemporary Art alongside Rhymefest of Donda's House and later released more information via a press release on ThinkCommon.com:
Common, and the Common Ground Foundation, Andrea L. Zopp, president and CEO of the Chicago Urban League, and Kanye West's Donda's House, Inc. Creative Director, Rhymefest held a press conference at Chicago's Museum of Contemporary Art, to discuss the state of their organizations, upcoming projects and announced the Chicago Youth Jobs Collaborative. The groups united for Chicago youth to advocate and garner commitment in organizing government, nonprofit and for profit stakeholders to push for more funding and resources to create youth employment opportunities. With the common missions threaded through each organization as well as their distinct influence in specific communities, the groups rallied to both challenge themselves and others to create job opportunities for youth, year round.
Hit the jump for information on the first annual AHH! Fest.
The AAHH! FEST, will be held September 20-21, 2014 at 6300 S. Hayes Drive. Day One will feature a diverse, all-star line-up of talent from across the country and Chicago. Day Two, will be curated by Kanye West' foundation, Donda's House, and showcase Chicago's aspiring talent. The AAHH! FEST will also host a job-shadowing program, which allows youth to learn operations connected to producing a high-level outdoor special event.
Tickets for AHH! Fest are scheduled to go on sale May 1st. Stay tuned for more details and be sure to read more about the Chicago Youth Jobs Collaborative and AAHH! Fest right here.