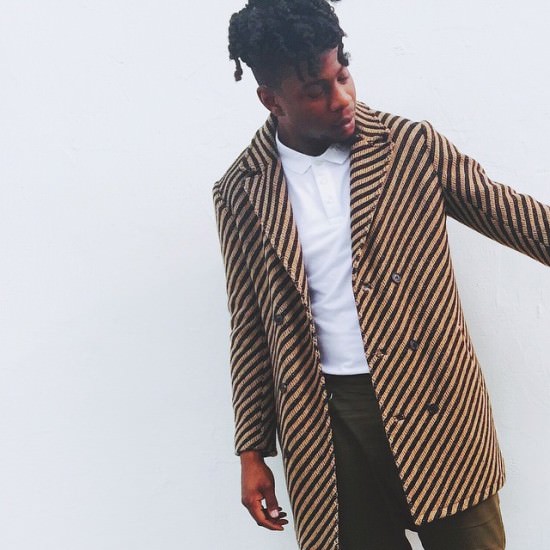 On a brisk spring day, rising Chicago star Mick Jenkins dropped by the Fake Shore Drive Headquarters in Chicago to preview tracks from his upcoming project, Wave[s] – the follow up to his critical and commercial breakthrough, 2014's The Water[s].
Anticipation is high for Wave[s], as it's Mick's first release with the whole world watching. Over the past six months, Mick has been omnipresent — seemingly playing every stage at SXSW, and landing on a number of major festivals this summer. He's up for the XXL's coveted Freshmen cover, and last year's The Water[s] landed on many 'best of' year-end lists.
Is the pressure on for Wave[s] to deliver and best its predecessor? Probably, but to spend an afternoon with Mick, you wouldn't be able to tell. He's cool, calm, collected and confident about his situation. No sweat. And after hearing what he has in the chamber, it's no surprise he's at ease. Sure he's eager, but he knows what he has, and what it can do.
In recent interviews, Mick has remarked that Wave[s] is to be a lighter project. More fun. Of course it will contain the socially conscious messaging and thought-provoking insight his fans know and love from him. But he's been experimenting with new sounds and vibes. Since The Water[s], he's experienced more of the world. He's seen more. He wants to expound on these new thoughts and ideas – but also expand his fanbase. The hard-hitting bars are still there, but in many ways it's Mick leaving his protective shell. Sometimes you have to get uncomfortable to get comfortable. No pun intended.
But Mick's new project doesn't sound at all uncomfortable. Nothing is forced. It's the evolution of an artist. But the music is sounding bigger, grander. He's linked up with the eclectic Chicago collective, THEMpeople, who've handled a bulk of the production on the project. In fact, THEMpeople have crafted more than half of the album. They have an Outkast/Organized Noize type of chemistry. They understand each other, and that's evident from just one listen of Wave[s]. There's lots of thick, live instrumentation. The musicality on Wave[s] is really next level. Many rap albums of the past 10 years (and especially 2015) sound flat, but this project is full of life. Some of the records even have that jam session vibe – reminiscent of the Soulquarian-sound of the turn of the century.
[Click Below For Next Page]