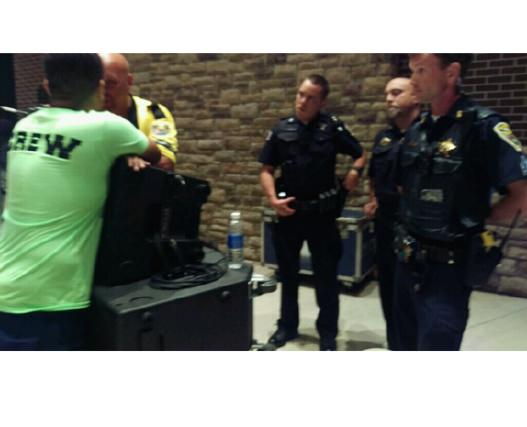 Yesterday, over 2,000 people attended the first-ever #CrazeFest, held in Hammond, Ind., and thrown by the brains behind College Craze, DJ Hoop Dreams and Law Cannon. The stacked bill boasted appearances from Riff Raff, Tink, Lil Bibby, Mano, DJ Oreo, Logan, Hurt Everybody and many more. The event was without incident as attendees partied peacefully throughout the day-long festival.
However, the special guest they'd been teasing for the past few days was none other than Chief Keef (in hologram form, duh), whose hologram benefit concert in Chicago had been canceled a week prior. So Keef and his manager Alki David took their talents to #CrazeFest to make it a night to remember — that was until Hammond Police shut the event down, after Sosa performed one song.
Says Tribune:
Chief Keef played one song, his hit "I Don't Like," and was talking about putting a stop to violence when the power was cut off.

Police rushed toward the stage, turning the music off about 10:25 p.m. Shining flashlights, they ordered concertgoers to leave. Fans who gathered Saturday left the grounds in an orderly fashion, though disappointed.
Hey, Keef got it done at least. But it gets even more interesting, Keef announced the location and then deleted it moments later, then announced it would be at Lincoln Hall — where another band was scheduled to perform. He was really trying to throw the scent off, huh?
But information about where Saturday's show would actually take place was in short supply. On Saturday afternoon, Chief Keef posted, then quickly removed, an Instagram photo of Wolf Lake Pavilion, encouraging fans to buy tickets. Later, he wrote on Twitter the show would take place at Lincoln Hall in Lincoln Park.

Lincoln Hall representatives denied the rapper would perform there. Rock band Clap Your Hands Say Yeah was already booked to play the venue.
Check out some pictures and videos of Keef's hologram performance below.