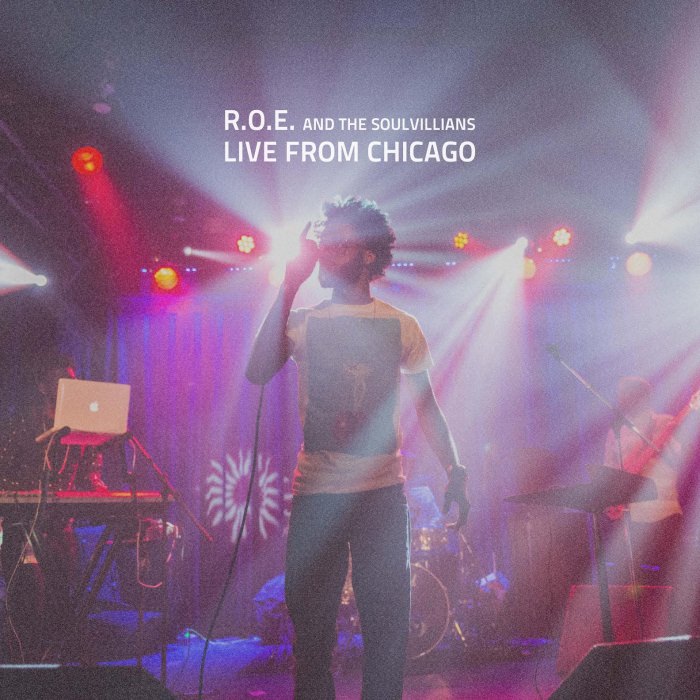 R.O.E. gets props for this. Who else is dropping live albums in rap music? Jay Z? The Roots? Sure. But that was like a decade and a half ago. Right? R.O.E. resurrects the art form with Live From Chicago. Alongside his band, The Soulvillains, R.O.E. recorded a recent gig at Double Door for the world to enjoy.
Chicago emcee R.O.E. (Rising Over Envy) has released a riveting live album featuring live instrumentation from his band, The Soulvillians. Recorded at Double Door in Chicago, Illinois, Live From Chicago, is a captivating record that is dominated by R.O.E.'s lyrics and stage presence. Adding to the amazingly strong album is the backing of live keys, drums, bass, and lead guitar. R.O.E. even contributes by playing live vocal breaks on his MPC. Showcasing the band's musicianship and crowd interaction, the album shows why R.O.E. has a strong hold on the indie touring circuit. Describing his dedication to an amazing live performance, R.O.E. explains, "I give 1000% every time I'm on stage. I want to create a memorable moment for fans whenever they attend a concert. The type of moments they cannot get by listening to the studio recorded material".

With just seven tracks, the album puts a live spin on break out tracks "Good Times", "Beware", and "Runaway" from his 2014 EP, To Happiness. The album also re-envisions covers of "The Light" by Common and Lauryn Hill's hit "Doo-Wop (That Thing). Musical guest include contributions from Taylor Mallory, Erthe St. James, and Jeff Gibbs (The Jeff Gibbs Quartet).
Check it out below.