Fans of Jeremih have been waiting on an official album since the release of his Late Nights mixtape back in August of 2012. Three years have passed since that classic tape hit the streets, and Jeremih delivered the best album of his career (in this writer's opinion) last week with the release of Late Nights The Album. It was worth the wait.
It's basically flawless from front to back, and he gave fans exactly what they wanted — an elevated version of the Late Nights vision and sound. It was a slam dunk — that is until the first week sales estimates started floating in, and predicted the album was going to move a measly 10k units. Bad. Even worse for an artist of Jeremih's stature. And really poor for a project that includes two platinum #1 singles.
Jeremih and his camp, including 50 Cent, immediately began pointing the finger at Def Jam Records, his recording home, claiming sabotage on part of the legendary label. First, they claimed the album's digital price point, $18.99, was far too high. The album was also released as a secret, quietly dropping as a midnight unveiling. Now they claim no CDs (or very little) were shipped to Best Buy locations.
50 Cent, a close associate of Jeremih, has been very vocal about the release, taking to IG and Twitter a few times to call out Def Jam. But today, fresh off appearing on Saturday Night Live, Jeremih broke his silence and vented: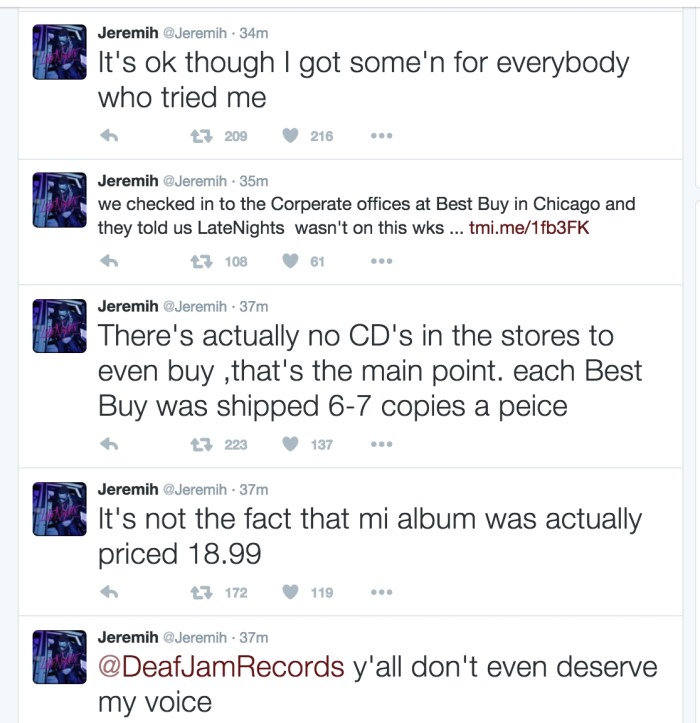 Eek. Now you know what they say: every story has three sides. So we're interested in hearing Def Jam's take on what happened. We will keep you posted on if they offer a rebuttal or official statement.
Jeremih finished his rant by tweeting the video to "Big Dawg Shit," a great loosie he dropped almost exactly one year ago, which took a shot at his label: "I would've never signed to Def Jam, had I know that they was Deaf."
Hopefully they can come to terms soon.