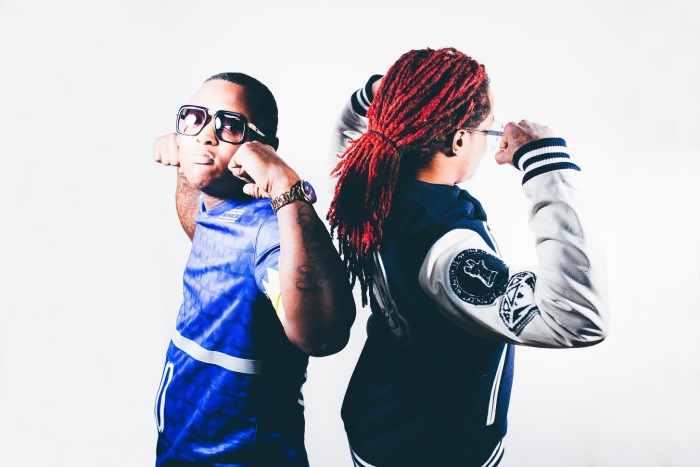 Video directed by APJ Films
The duo of Ceno and Trav, otherwise known as the Chicago faction Sicko Mobb, have been at the forefront of Chicago music for the past three-plus years. They've seen much success commercially and critically, having secured publishing deals with Sony and record deals with Polo Grounds/RCA — but 2016 is set to be their biggest year to date. Why? Because their major label debut is finally slated for release. And quite possibly their biggest single to date, "Expensive Taste," featuring Jeremih, has been taking off online and on radio.
The track made a huge splash a few months back when it impacted, and forced the Mobb to get back with Jeremih to film the official music video which was shot by Aaron Perkins Jr. This also could be Sicko's dopest video to date, as all sides truly went crazy to make this riveting visual a masterpiece.
To celebrate this high profile world premiere of "Expensive Taste," we sat down with Trav and Ceno for a interview where we discuss their major label debut, its impending release, how Bop is perceived in 2016, and if Super Saiyan 4 is a possibility. Hit the jump for the interview and the "Expensive Taste" video.
FSD: It's been a crazy past few years for Sicko Mobb. How do you plan to keep the momentum going?
Sicko Mobb: It definitely has been one crazy rollercoaster but we're blessed to be from such a great city and have such a great core fanbase that really rocks with us. We have a lot of dope visuals and music and surprises coming in the future.
FSD: How did you hook up with Jeremih for the new single?
Sicko Mobb: Our first encounter with Jeremih was at KOD a strip club here in Chicago. We were performing and he was like in the front section with his people vibing to our music. Our management reached out and he was with it and we exchanged numbers — but then we lost his number! [laughs]. Shout out to Seandale at Power 92 for putting us back in tune so we could make it happen.
FSD: Are you guys still on Polo Grounds Music/RCA? When do you think the album is dropping?
Sicko Mobb: We are still signed to Polo Grounds — shout out to the whole staff over there. As far as the album, we are dropping an EP first so we're in the process of wrapping that up, choosing singles, shooting visuals, etc.  They are throwing a few dates around so I don't wanna upset fans with wrong dates, but it's looking like the summer, though. It will definitely be dope and something special.
FSD: Will there be a Super Saiyan 4?
Sicko Mobb: Yes, [there] definitely will. We think it's important to give our fans what we want to give them.
FSD: How have you been able to keep your sound fresh for so long?
Sicko Mobb: I think because we're really trapped in our own Sicko world. We're really purists with our sound.
FSD: What do you think when people say "Bop is dead"?
Sicko Mobb: We laugh and say "maybe it is!" [laughs] Because we don't Bop. When we made our early songs, they were made acapella. We sat and hummed what we heard in our heads to [producer] Lil Corey who then played it out. That's just how we heard music at the time — we weren't scared to be different, but we never thought people would name a whole genre after it.
We love to turn up. We just wanted a sound that you couldn't help but turn up too, so we will continue to go Super Saiyan and set trends in music and remain forever grateful for what Bop did for us. Salute to Dlow and Kemo — we all started something epic, organic and original, but we aren't limited to that — we're growing and so is our music.