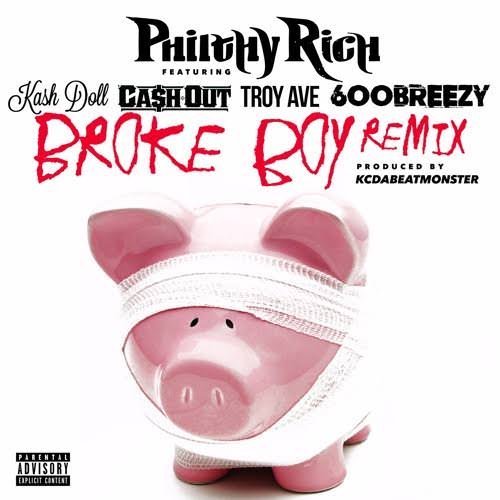 Produced by KCDABEATMONSTER
.Philthy Rich's hit "Broke Boy" just got that much bigger — and today we have the world premiere of the official remix of the record, which features an all-star cast including 600 Breezy, Kash Doll, Ca$h Out and Troy Ave. Yeah, he has many markets represented on this one.
But what exactly is a "Broke Boy" you ask? Well, it isn't someone who is down on their luck or suffered misfortune. Philthy explains:
Philthy Rich defining what a Broke Boy is: "A 'Broke Boy' isn't someone who is simply poor. A 'Broke Boy' is someone who is perpetrating to be financially stable for their friends or a female when they're really not. I get a lot of people using my photos or my likeness and scamming people out of their money. Like random people posting photos of my jewelry saying that they made it and will take money to make chains for whoever. That's some broke boy shit. It's cool if you don't have a lot of money and I'm not against the hustle but don't manipulate me and use me in a deceitful way to come up."
Check out the world premiere below.