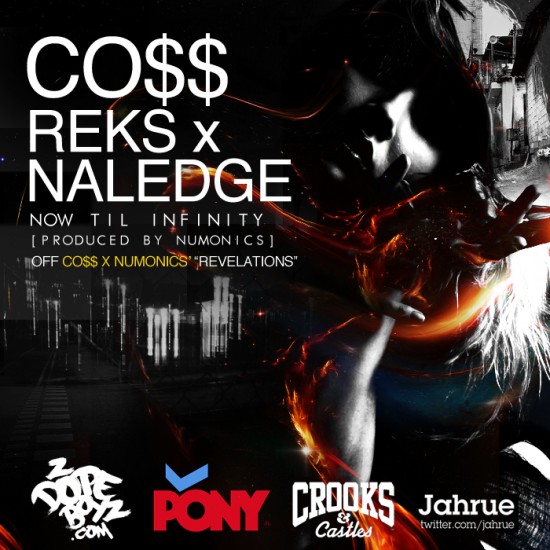 "We winnin' over here, Michael Jordan shrug for 'em" – Naledge
After several collaborations, LA's Co$$ and Ft Lauderdale, FL's Numonics have joined forces to release the upcoming mixtape "Revelations". The project is presented by 2dopeboyz.com and in association with PONY International andCrooks & Castles. Co$$'s unique sense of timing and witty lyricism is combined with the raw soul influenced style of Numonics' production. The pair are joined by some of hip hop's best lyricists; Blu, Reks, Naledge, Big K.R.I.T., Freddie Gibbs, Sene, Wrekonize and Shawn Jackson.

The first leak from the project comes in the form of "Now Til Infinity" featuring Lawrence, MA's Reks & Chicago's Naledge. All 3 MC's tackle the uptempo Numonics' production with ease showcasing their individual styles.

Co$$ x Numonics "Revelations" will be released in July via 2dopeboyz.com and in association with PONY Internationaland Crooks & Castles.
[wpaudio url="http://www.box.net/shared/static/76rplx0dev.mp3″ text="Co$$ feat Reks & Naledge – Now Til' Infinity" dl="http://www.box.net/shared/76rplx0dev"]