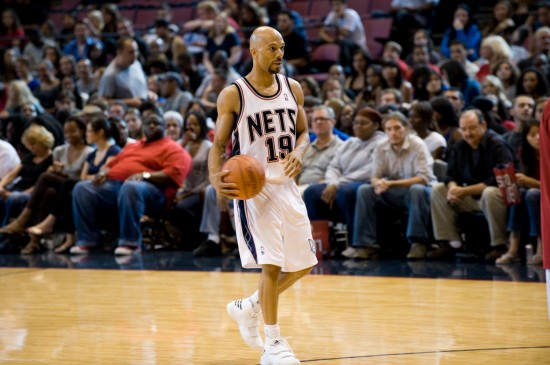 Since Common has recently hit the A-List, I guess the powers that be have decided to capitalize on what got him here in the first place. Why not, right? Not that Common isn't a good actor (because he's damn good in Just Wright. [II]), but he's a better rapper. One of the best ever, actually. So on May 25th, Geffen/UMe is dropping Go! Common Classics, an 11 song collection of Common's best tracks of the past decade, which if you're keeping score at home means 2000-2009, or in Common-years, nothing before Like Water For Chocolate. With the exception of "The Bitch In Yoo", which oddly enough will appear on here as well.  
In other news, I just decided that I'll be dropping my own Common "Best Of" project on the very same day with my favorite 11 Common tracks. Ever. How you love that?
But I digress.  Go! Common Classics will also feature a new/unreleased track with Queen Latifah entitled "Next Time", which I'm guessing is a reworked version of that unreleased Kanye-produced track that leaked a while back.
Peep the tracklist and hit the jump for the press release
What 11 songs would you have picked?
• The Light
• Universal Mind Control (UMC)
• Next Time (Just Wright Version) NEW SONG!! Featuring QUEEN LATIFAH
• Go!
• Come Close Featuring MARY J. BLIGE
• I Want You
• The Corner Featuring THE LAST POETS
• Love Of My Life (An Ode To Hip Hop) ERYKAH BADU Featuring COMMON
• Testify
• The People
• Drivin' Me Wild Featuring LILY ALLEN
• Southside Featuring KANYE WEST
• The B**** In Yoo
There is nothing ordinary about acclaimed rapper Common, as the first retrospective of the most successful span of his career to date proves.  Compiled with Common's participation, Go! Common Classics (Geffen/UMe), to be released May 25, 2010, gathers 11 of his most popular tracks from the past decade on MCA/Geffen plus the rare 1996 battle record "The B**** In Yoo" and a new song, "Next Time (Just Right Version)" featuring Queen Latifah, from the film Just Wright, starring Common and Latifah, and scheduled to hit screens May 14.
Since his acting debut in Smokin Aces, Common has worked with some of the most coveted actors and directors in Hollywood. Common was last seen in the blockbuster hit Date Night opposite Steve Carell and Tina Fey.  Additional credits include, American Gangster with Denzel Washington and director Ridley Scott, Wanted opposite Angelina Jolie and James McAvoy and Terminator Salvation with Christian Bale and Sam Worthington.
Common's major label debut, his fourth studio album, 2000's Like Water For Chocolate, marked the commercial breakthrough for one of rap's most influential, literate and creative forces.  His first gold album and a #5 R&B hit, the disc included "The Light," Grammy nominated for Best Rap Solo Performance.  2002's genre-bending Electric Circus went Top 10 R&B and brought under the hip-hop big top "Come Close" featuring Mary J. Blige.  That same year, he was featured on Erykah Badu's "Love Of My Life (An Ode To Hip Hop)" from the soundtrack to Brown Sugar.  With three Grammy nominations, the track earned Common his first win, for Best R&B Song.
His next album, 2005's Be, was almost entirely produced by Kanye West.  The second gold album of his career, and first R&B #1 (also #2 Pop), Be spun off four Grammy nominations, including "The Corner" featuring The Last Poets and "Testify."  In addition, Go! Common Classics embraces the hit "Go!"  In 2007, Finding Forever debuted #1 R&B and Pop, went gold, and was Grammy nominated for Best Rap Album.  The single "The People" was Grammy nominated for Best Rap Solo Performance and "Southside" featuring Kanye West was nominated for Best Rap Performance by a Duo or Group.  Go! Common Classics also reprises its hit "I Want You" and "Drivin' Me Wild" featuring U.K. pop starlet Lily Allen.  Culled from Common's most recent album, 2008's Universal Mind Control, which soared into the R&B Top 5, the collection boasts the hit title track.
Even as Common continues to act in major motion pictures a new album is expected this year.