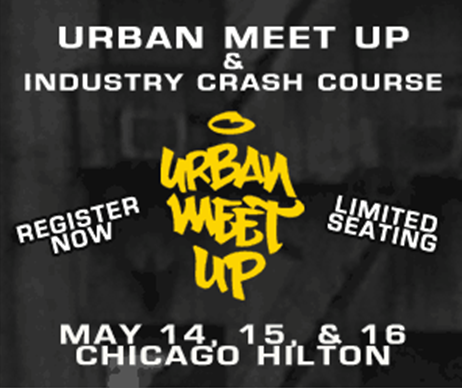 This year NARM (the National Association of Recording Merchandisers) conference hits Chicago, and I'd like to personally invite everyone out to the event for Hip-Hop and Urban Music – the Urban Meet Up & Industry Culture Clash, May 16 at the Chicago Hilton in Chicago from 2-3pm.
This event will feature some of the music industry's biggest heavy hitters, including Ron Spaulding, the President of Fontana Distribution (distributor of Rap-A-Lot, Ruff Ryders, Island Def Jam, SMC, VP Records, Strange Music, etc.), the independent distribution arm of Universal. The event will also feature Barbara "BAM" McDowell (Music Director of Power 92), Timbuck2 (WGCI), Ranadeb "Jellow" Chowdhury (CEO of Ch'rewd/Mid C Media – manager of The Cool Kids and Pac Div), Dedry Jones (Owner of the Music Experience), and many more.
I actually have FIVE passes to give to the FSD readers and loyalists.  I honestly believe this conference will be beneficial in learning the music business from some of the best in the biz. 
All you have to do is TWEET ME  the answer to these questions…
1.) Where is the NARM conference being held this year?  What is the venue?

2.) Name one speaker on the panel

3.) What does NARM stand for?
You can read my full note and gather more details after the jump.
Dear Friends:
This year NARM (the National Association of Recording Merchandisers) conference hits Chicago, and I'd like to personally invite everyone out to the event for Hip-Hop and Urban Music – the Urban Meet Up & Industry Culture Clash, May 16 at the Chicago Hilton in Chicago from 2-3pm.
This event will feature some of the music industry's biggest heavy hitters, including Ron Spaulding, the President of Fontana Distribution (distributor of Rap-A-Lot, Ruff Ryders, Island Def Jam, SMC, VP Records, Strange Music, etc.), the independent distribution arm of Universal.  The event will also feature Barbara "BAM" McDowell (Music Director of Power 92), Timbuck2 (WGCI), Ranadeb "Jellow" Chowdhury (CEO of Ch'rewd/Mid C Media – manager of The Cool Kids and Pac Div), Dedry Jones (Owner of the Music Experience), and many more.
But what really excites me about NARM beyond the incredible relationships and networking is what you can learn from the Crash Course Work Shop.  Check this out…
Artist Economics: What Artists & Labels Both Need To Know

Artist Panel: What I Wish I Had Known

Publishing & Licensing Income: How To Expand Income Beyond Recorded Music

Label Economics: So You Want To Be A Music Mogul …Outsourcing For Knowledge & Profits So You Can Focus On A&R & Marketing

Going To Market: Digital & Mobile & Physical

Social Networks & Traditional Promotions: Promotion For Pay, Both Ways!

I urge each and every one of you to come out, as this could help further your career and if anything it will be a good place to network and make valuable connections with people who can make things happen.    Limited seating is available, so the sooner the better.

I think this quote from the NARM website sums it up best:

Make plans to make connections at NARM 2010, where you will network face-to-face with high-level decision-makers in the music business. Rub shoulders with industry veterans and get to know the young minds shaping the future. With the most diverse collection of labels, distributors, retailers, online sellers, mobile operators, and music enthusiasts gathered in one place, this is the meeting ground for the most knowledgeable and influential people in the business.  Check out the link…
http://urbanmeetup.eventbrite.com/
Best,

Andrew Barber