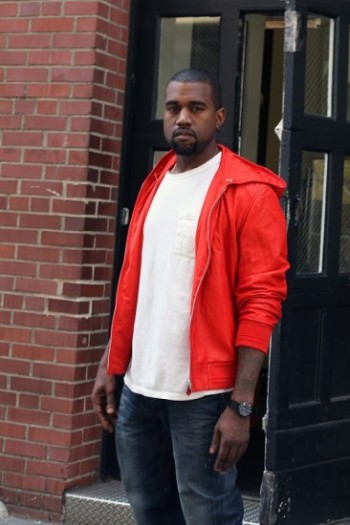 Last week, while in NYC, Kanye did more than just walk the streets of SOHO – he also hit the town with some of his G.O.O.D. Music crew and tookover NYC hot spot CV to preview a handful of tracks from his upcoming album, Good Ass Job.
Last week, however, West popped up at Manhattan hot spot CV, with entourage in tow — Plain Pat, Consequence, Kid Cudi — for a rare public appearance since he first vowed to take time off following his VMA stunt. (West admitted at the time in a televised interview with Jay Leno that he was still dealing with the emotional complexities of his mother's death.)

The unsuspecting crowd at CV partying to the tunes of DJ/ hip-hop producer Scram Jones got a first listen as Kanye premiered a handful of songs from his forthcoming album.

"Kanye came through. There's a table right by the DJ booth, so they posted up right in front of the booth, and basically, after they hung out for a little while, 45 minutes later, Pat came in the booth and said he wanted to play some new stuff. He had a CD, and we put it in," Jones explained to MTV News on Tuesday (May 25).

"Kanye leaned over and said, 'Play track three.' They all went nuts, Kid Cudi was dancing on the table, and then we cut it off at about a minute-and-a-half. We went to another record, and that got everybody excited, and Kanye said, 'Play number seven.' That's how it kept happening. By the end of the process, we played four records," the DJ added.

According to Jones, there was no microphone announcement made by West — he just asked for the records to be played and "kind of took over the spot." Jones wasn't able to identify the titles of the tracks he spun but described them as "real hip-hop," sans Auto-Tune, singing, or even West's trademark soul samples.
What are the chances 'Ye would ever pop up at a spot in Chicago like this?  Kind of upsetting, really.