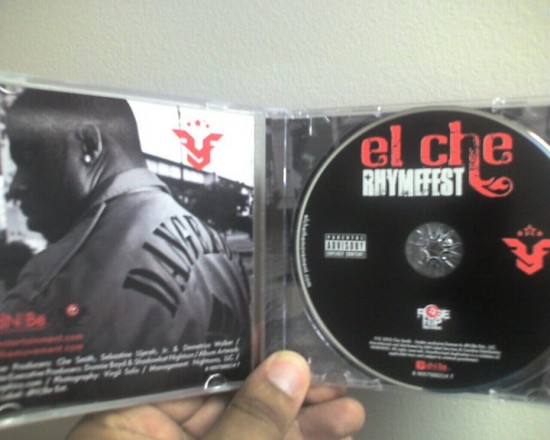 It appears a few press/promo copies of Rhymefest's sophomore album, El Che, have been shipped out to select outlets, writers and industry tastemakers.  I snatched these pics from one of the Executive Producers of the project, Shadowkat Nightson.  So yeah, here's further proof that El Che is done and will be dropping on June 8th on dNIBe/EMI.  
I was also able to get my hands on the production credits.  The bulk of the album was done Scram Jones, S1 and Chicago-producer Terry Hunter (dope!) and features Twone Gabz, ADaD, Little Brother and Saigon.  Sorry folks, no Kanye West or No ID this go 'round.
You can purchase the album here now – and even get the Revolutionary Package, which includes a t-shirt and autographed copy of the project.  Some added value for the fans.  They're also offering up a cassette tape version of El Che, which they're calling the Prison Tape.  
01. Intro: The Agent
02. Talk My Sh*t (prod. by BKS)
03. Say Wassup [ft Phonte] (prod. by S1 and Caleb)
04. How High [ft Little Brother and Darien Brockington] (prod. by S1 and Caleb)
05. Chocolates (prod. by S1)
06. One Hand Push Up (prod. by S1)
07. Prosperity (prod. by Jimi Conway)
08. Truth On You [ft Twone Gabz] (prod. by Terry Hunter)
09. Intermission: Juan Carlos
10. Chicago (prod. by Scram Jones)
11. Agony [ft Glenn Lewis] (prod. by Terry Hunter)
12. Last Night (prod. by Scram Jones)
13. Give It To Me [ft ADaD and Saigon] (prod. by Scram Jones)
14. Intermission: No Help
15. City Is Falling [ft Slique] (prod. by BKS)
16. Celebration (prod. by Terry Hunter)