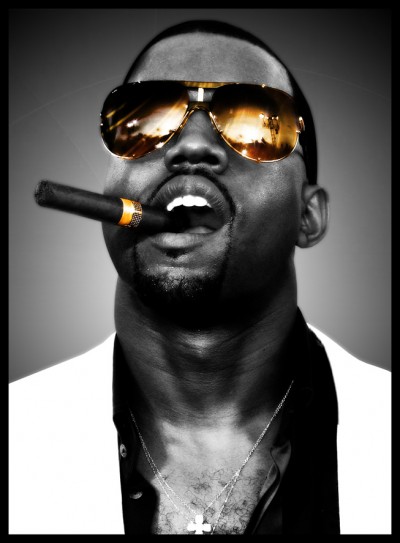 This could be a whale's tale, but Thunder Kush is claiming they got their hands on the *rumored* tracklist for Kanye's Good Ass Job, which won't even end up being called Good Ass Job.  Got it?  This lineup seems almost too good to be true – which will probably be the case here.
I'm going to reach out and see what kind of answers I can get here.
1. Hell Of a Life (feat. Lil' Wayne) [Kanye West & DJ Toomp]
2. Dark Fantasy [RZA]
3. Power [S1]
4. Chain Heavy (feat. Eminem & Jay-Z) [Kanye West]
5. Ghetto University (feat. T.I.) [Kanye West & DJ Toomp]
6. That's My Girl (feat. Katy Perry & Kid Cudi) [Kanye West & Jon Brion]
7. Runaway [Kanye West & Q-Tip]
8. Lost In The World (feat. Nicki Minaj & Rick Ross) [Kanye West & No I.D.]
9. Gorgeous (Ode To Kardashians) (feat. Drake & Game & Ludacris) [Kanye West]
10. Monster [Kanye West & DJ Premier]
11. Holding Me Back (feat. Mos Def & Talib Kweli & Phonte) [Kanye West & Madlib]
12. Devil In a New Dress [Pete Rock]
13. The Joy (feat. Common & John Legend) [Kanye West]
14. So Appalled (feat. Drake & Jamie Foxx) [Kanye West & No I.D.]
15. Blame Game [DJ Toomp]
16. Sweat On My Face [DJ Premier]
Update:  Very surprisingly, these titles, tracks, production credits and collaborations are REAL.  However, these will NOT all appear on the final album and this isn't the real tracklist.  Either way, holy shit.  What I'd give to raid Ye's hard drive.  [II]  This album is going to be absolutely ridiculous.
Update 2:  So that was wrong.  The titles of the tracks are correct, however the production credits and cameos are false.  I knew it was too good to be true.