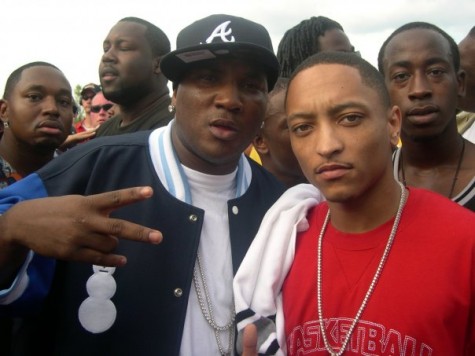 [Remix/No DJ/CDQ/Unreleased]
Today's pick was a bit unexpected, as I had something totally different planned for Wednesday of Bump week.  However, I was chatting with rapper/producer extraordinaire and close friend of Bump J, Cayex Illah, and he blessed me with something exclusive.
 Rewind 2+ years ago to the release of Bump's last *official* mixtape, Dinner Time.  Now, when this mixtape dropped, it did not include (at least in my file/post) a back cover or tracklist – so you can forget about any production credits.  To this day I still don't know who produced gems like "Chevy Fresh Out", "No New Nz", "Dinner Time" – and one of my favorite joints "I Can Handle It".
 Fast forward to yesterday afternoon while I was talking to Cayex and he informed me he actually produced that cut – and there's a remix featuring Payroll in existence to boot.  Said remix surfaced for a few hours on Bump's Myspace page back in early '08, but was quickly taken down by request – so it's safe to say that if you didn't rip it then, you probably don't have it.  So today we have the Bump J x Cayex Illah x Payroll remix of "I Can Handle It".  As for Payroll, I heard he was recently released from a stint in jail and is currently back in the lab working on new music. 
Bump J feat. Payroll – I Can Handle It (Remix) [Prod. by Cayex Illah]